1st October, 2022 – Roj-Sarosh, Mah-Ardibehesht – is an extremely auspicious day as it marks the Salgreh of a number of our Atashbehrams and Agiaries, including the 193rd Salgreh of Pak Wadiaji Aatash Behram (Princess Street, Mumbai); the 201st Salgreh of Pak Mody, Shahenshahi Aatash Behram (Shahpore, Surat) and the 258th Salgreh of Pak Desai Aatash Behram (Tarota Bazaar, NAVSARI).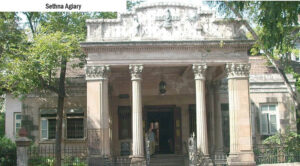 In addition to marking the salgreh of three Atashbehram, this day also marks the salgreh of Sethna Agiary's Adaryan Saheb (Tardeo, Mumbai) and that of Sir Shapoorji Bharucha Agiary (Bharuch, Gujarat). Estimated to be over approximately 1,100 years old, the Sir Shapoorji Bharucha Agiary lies nestled in the by-lanes of Bharuch. It was built by Zoroastrian priests.
As these Atashbehrams and Agiaries will be conducting a Jashan, among other religious programs, in commemoration of their respective Salgrehs, it would be nice to pay your respects by visiting these revered places of worship close to you and gaining the blessings of the Padshah Sahebs.
Latest posts by PT Reporter
(see all)