You may eat Michelin star cuisine, 'tis sure to be very good, but the portion is usually petit and the bill – astronomical! Not something for daily diet unless you're Tata or Trump or a Texan Billionaire.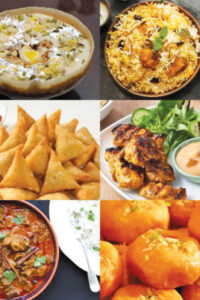 On the other hand, street food is great – anywhere and everywhere! Be it vada or vada-pau, known as the 'Mumbai Burger' or then, bhel-puri / pani-puri… all of that usually pass off as Chaat of North India. Bhel-puri or chat consists of various ingredients that vary as per the city. Mumbai also boasts of the best batata-puris or dahi-batata puris, but the Chaat I tasted in Agra was by far the best, not that I'm an authority on Chaats. The Punjabi samosas are favourites of many, especially the outer crusty cover. Then there's the delectable sheekh-boti… with skewers of mutton botis, liver (kaleji) botis and soft chew khiris (mammary) – all marinated and barbequed on the coal 'sigri' or open stove… served with hot and sour chutneys, sliced onions, sprigs of mint and quarters of lime.
Every city the world over, has its own trademark street food – USA has the hot dog or the burger; Mexico has the Tostados or Tortillas; Columbia has Arepas (steamed corn-cakes filled with meat and cheese); Chile/Cuba have Ceviche (raw fish / meat marinated in lime juice, salt and pepper); Poland serves its Pierogis (like Momos filled with cheese, potatoes, meats or even fruits!).
London, of course, is known for Fish 'n' Chips, but as one of world's most cosmopolitan cities, London offers street foods from across the globe, tempered to the English taste. There's potato chips which constitute the main dish, not the snack, smothered with cheese and garnishes. Not to forget the Amazonian creation wrapped in a kind of bread or thick crepe made of tapioca flour with fillings – rather chewy… and the chorizo roll consisting of chorizo sausage and some greens with a drizzling of olive oil – all sandwiched between crisp ciabatta bread. Once I even chanced upon an Englishman on a bicycle selling Kolkata's 'Jhol muri' in London!
Paris, and we have Croque Monsieur or Croque Madame – a ham and cheese sandwich, with the difference in the latter boasting of a fried or poached atop. There's the yummy crepes and onion soup. Down in the boot-shaped-land, Italy is the foodie's paradise. Their pizzas are an international phenomenon, with toppings customized to the country's palate – in India we use paneer, tandoori meats and butter chicken atop pizzaz. The original Italian toppings are very basic – fresh basil leaves, tomatoes, dollops of mozzarella cheese, a sprinkling of oregano, olives and a generous drizzle of olive oil. When in Italy, one must try Lasagne, Risitto and Gnochi, and my favourite – the incomparable Parma Ham, known as Prosciutto di Parma. And of course, the Gelato – a close cousin of the ice cream!
In Spain, it's the 'tapas' which form the highlight of the cuisine – these are like starters and are usually paired with Spanish wines like Sherry and Rioja. Those with a sweet tooth will not be able to resist their 'Churros' – sticks of ecstasy- sweet, crisp on outside and tender inside. They come with a sprinkling of sugar-cinnamon dust, and taste heavenly when dipped in chocolate sauce.
Singapore's Chilly–crabs tops their street-food list – stir-fried in a sweet and sour sauce with an egg to crown the crab. As we move Eastward, the street-food ups the weird quotient with some creepy crawlies making it to the menu, as I'm sure you have seen on food channels. I would like to try some – snakes, grasshoppers and those fattened buttery worms – but the stern 'NO WAY' from my wife leaves me with little choice!
My nephew who lives Down Under treats his visitors and Aussie friends with barbequed steaks of alligators, kangaroos and what not! While most Indian friends are a bit wary initially, after the first bite, the party really gets under way with steaks washed down by Australian wines!
All the above tongue-ticklers are ok but when you're home and under the weather, what works best is your Comfort Food – it varies from anything to anything. My comfort food is just a bowl full of malai (fresh cream) and toast, no sugar or jam or other frills. I just love it. The only competition it gets is from a plain omelet with just salt pepper, wrapped up in aapri faithful rotli. Simple, but to me it is a kingly meal! Truth is when it comes to food that you always want to go back to for that feeling of 'home-and-happy', our simple comfort food takes the cake!
Latest posts by Dara M Khodaiji
(see all)