Heartiest Congratulations to our Top 3 'PT's World Egg Day Contest' Winners! Your 'egg'celent entries had us s'edu'ced by your 'egg'straordinary and 'egg'sclusive entries!! We thank all of our participants who sent in their 'egg'ceptional entries as well!!
(Winners are requested to email us at editor@parsi-times.com to pick up their prizes)
WINNING ENTRY 1:
Poetry-par-Eedu!
By Meherzad Karanjia
What is common between
Sali, vaingnu and bheedu?
Why, they all go so well
With our good ol' Eedu!
Siddhu nai gamey,
Toh kari leo udhu;
Till the white goes brown
And the yellow is not dhilu!
When you were small,
Raw egg ne naak band kari ne peedhu'
Motta thai gaya toh
Boiled egg whisky sathe lidhu!
Egg is best for everyone,
Evu doctor saheb aye kidhu!!
Even aapri Freni ay Jal ne
Panva ni pehla aj kai didhu:
"If you truly love me,
Daily make me Sali-par-eedu!"
If breakfast was served without scrambled eggs,
Aapri Rani pan "na" kai deti khava,
Fried, Poached, Akuri or Omlette –
Eedu is the birthright of the Bawa!
WINNING ENTRY 2:
Kera-Eeda No Poro
By Farah Gev Italia
Try out this amazing 'Egg'squisite recipe which is sure to tickle the bawa taste-buds!!
Ingredients:
Eggs – 2; Banana – Half; Cheese – 1 Cube grated; Capsicum – Half, finely chopped; Green Chilli – 1 finely chopped; Coriander – 1 tsp; Red Chilli Powder – ¼ tsp; Cumin Powder – ¼ tsp; Turmeric Powder – 1 pinch; Salt as per taste; Oil for frying.
Method:
Beat eggs till frothy. Grind Banana and Chilli to a smooth paste and add to the beaten eggs. Now also add the Capsicum, Coriander and all the masalas and salt and mix well in the egg mixture.
Heat oil in frying pan and pour the egg mixture. Keep flame on low and let it cook for 2-3 minutes. When set, flip to cook the other side for a few minutes. Your yummy 'Kera-Eeda No Poro' is ready! Serve hot with chapaties (and ketchup if your prefer). Enjoy!!
WINNING ENTRY 3:
'Egg'zotic Creations
By Roda Kotwal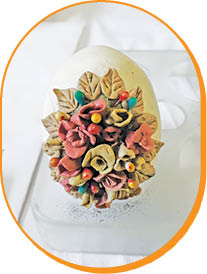 SPECIAL MENTION 1:
'Egg'stra-Special Mumbai Shhtyle Eedu
By Mithra Jamshed Patrawala
This recipe is for our young ones who always want 'something different'! So, here's an Eedu with a twist – absolutely MUMBAI SHHTYLE!
Ingredients:
Eggs – 3-4; Chicken Salami Slices – 3-4; Onion – 1 small, finely chopped; Tomato – 1 finely chopped; Garlic – 2 cloves, finely chopped; Coriander – handful, finely chopped; Cheese – 1 cube; Salt to taste; Mixed herbs; Butter for sauté; Aloo Bhujia or Nylon Sev
Method:
In a medium sized pan, melt a spoon-full of butter and sauté the chicken salami. Chop into small pieces and keep aside. Now whip 3-4 eggs, add salt to taste and spread it onto the frying pan on low heat. Immediately sprinkle finely chopped onions, tomatoes, salami, garlic and coriander over the egg. Sprinkle half teaspoon mixed herbs on them. Shut the lid till the eggs are nearly cooked (still not set). Now add grated cheese over the egg and shut the lid. After a minute when the cheese has begun to melt, sprinkle either Aloo bhujia or Nylon sev over it. Do not close the lid now or sev will get soggy. Let it cook till well done. Cut like pizza slices and enjoy!!
SPECIAL MENTION 2:
'Egg'streme Love!
By Vanitar Danesh Patel
Latest posts by PT Reporter
(see all)