51-year-old Surat resident, Yezdi Noshir Dapotawala, continues to inspire one and all, this time having completed the second edition of 'IRONMAN 70.3 Goa' – an extreme endurance event – which commenced at the Miramar Beach in Goa's capital – Panaji, on 13th November, 2022. Over 1,450 participants from 33 countries put their best to the test, into this eight-hour triathlon (which is a qualifying event for the IRONMAN World Championships), where they were required to complete a gruelling 1.9 km open sea swim, 90 km cycling and 21 km running.
Yezdi clocked 7 hrs, 50 mins and 30 Secs (Sea-swim at 00:54:36; Cycling at 03:42:47 and Running at 02:53:15) to complete this extremely demanding event. The IRONMAN 70.3 comes on the heels of yet another fabulous triumph – the first edition of the VRG Triathlon, held on 6th November, 2022, where Yezdi stood first in his age group, completing the Olympic distance of 1.5 kms swim, 40 kms cycling and 10 kms running.
A passionate athlete since childhood, Yezdi has participated in and won numerous endurance competitions across local, national and international platforms. He represented The Zoroastrian Club – Surat at the All Parsis Athletic Meet in Mumbai since he was in school, a legacy now continued by his children. But it was long distance running that captured his heart and he started practicing sincerely for Marathons, since 2018. Even through the pandemic, when it was possible, over the past couple of years, Yezdi successfully completed numerous half-marathons held in Surat city as also Ultra-runs held in the forest areas of Daang near Saputara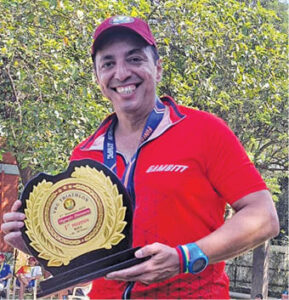 "The Goa Ironman was one of the more difficult ones in India, with its challenging hilly cycling rides and hill-runs. Plus, since we started post sunrise, we had to press on the whole day through the extremely hot (32° C) and humid conditions (71% Humidity). I'd been training six days a week for Ironman, since the last three years. Two days each, I'd practice swimming, running and cycling for long hours. Though swim sessions are normally in a pool, once a week, I'd swim in the river Tapi to test my endurance. One has to keep a watch on the diet too," shares Yezdi.
Two of Yezdi's commendable achievements comprise major cycling expeditions, one where he cycled 500 kms over 10 days, at high altitude and broken roads, from Manali to Spiti Valley (2016), and the other where he rode through the dangerous forest regions in Arunachal Pradesh, again another 500 kms over 10 days. Some of his best timings have been in the Tapi Monsoon Marathon and the Hyderabad Half Marathon, considered to be the toughest road race in India.
So, what keeps him going strong even at the age of 51? "Having always been an athlete, I feel constantly motivated to do something or the other. For me, age is just a number – I always look forward to participate in as many good events as I can around the year – even if that takes me to far-off destinations. I thank my family and friends for being my biggest support," says Yezdi, who has also been training his son – Zeus Yezdi Dapotawala, by taking him for marathons in Surat.
Speaking excitedly about his future plans, he says, "I'm now aiming for the full Ironman next year, which consists of 3.8 kms swim, 180 kms cycling and 42.2 kms running – all of which should be accomplished in 16.30 hours. And after that, I want to participate in the 'Ultraman' – it's every athlete's dream come true! It's a 515 km multisport race, spread over three days and consists of 10 km of open-water swimming, 421 km cross-country cycling and an 84 km ultra-marathon run. Each stage has to be completed in 12 hours or less!"
Sharing a heartfelt message with the community, he says, "My message to my fellow Zoroastrians is to please take some time out from your hectic schedules for your health. Health is the greatest wealth. There's no point in losing health in the quest for wealth because you will end up spending all of that hard-earned wealth to regain your health! Take an hour off daily to dedicate to the betterment of your health. Respect and take care of your body as it's the only place you will live in, till your last breath!"
Wise words indeed! Parsi Times congratulates Yezdi on doing the community and the nation proud and for proving that age, is indeed, just a number! Here's to many more accomplishments – may he continue setting the inspirational precedent for one and all!
Latest posts by PT Reporter
(see all)