Continuing their brilliant success in body-building, the father-son duo – Jehangir Randeria (52) and Kaiwan Randeria (23), have once again achieved dazzling gold wins, alongside history-making news by also winning the overall titles, at the 'Mumbai Shree Bodybuilding Competition', organised by the Amateur Bodybuilding Association of Mumbai.
In this year's Mumbai Shree Bodybuilding Competition, which was held on 11th December, 2022, both – Jehangir and Kaiwan – won not just Gold medals in their respective categories, they even went on to win the overall Titles in their categories. Speaking with Parsi Times, Jehangir shares proudly, "This year, as always, I participated in the Mumbai Shreeman (above 40 years) category and my son, Kaiwan, participated in the Mumbai Kumar (under 25 years) category. It was Kaiwan's first competition. Both of us won the Gold Medal in our respective groups as well as the overall 'Mumbai Shreeman' and 'Mumbai Kumar' Titles, contested between the Gold medal winners of that category."
Indeed, a moment of great pride for them, as the Association lavished praises upon them, announcing that this was the first time in their history, that a father-son duo had won not just the Gold medals, but also the overall Titles. They invited Jehangir's wife and brother on stage and felicitated the whole family.
Sharing his inspiring story, Jehangir, an entrepreneur in the automobile industry and the Founder of 'Kamyo Car Spa', says, "Being a typical food-loving Bawaji, I used to be obese, weighing 100 kgs. That's when I started my fitness journey, at the age of 44, and the love of fitness drew me towards competitive bodybuilding at age 48. I have won Bronze and Silver medals earlier, but this is the first time I have won a Gold Medal as well as the overall Title! I hope that my achievements will motivate and inspire other seniors like myself, to follow their passion, whatever it may be. I stand as proof to the adage, that age is just a number. There is no upper age to start your fitness journey and the beauty of nature is such that our bodies have the capability to adapt and improve at any age. So just bury the thought 'ave to apri umar thayi gayi – ave su thaay'. Age is but a number, just get started and see the change! I also hope our community youngsters will take up this sport and follow a healthy lifestyle."
Says Kaiwan, "I've been gymming from a young age. But having seen my dad's superb transformation and his love for the gym, it's like it just automatically grew on me and this year I was inspired to compete along with him. Being a Bodybuilding Specialist and Sports Nutritionist, my dad mentored and prepared me (diet, training, programming) for this competition. I am thrilled to have won the gold and the title in my very first attempt, but I also know that this is where the grind begins. I want to work hard and realise my potential and make an excellent career in the fitness industry."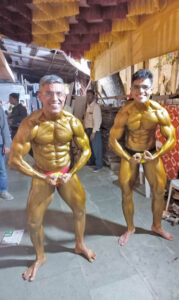 In November 2019, PT had reported, then 50-year-old Jehangir Randeria, having participated and winning with his other son, Yohan Randeria, again as father-son duo, the Silver and Bronze medals, respectively, in the same competition.
Earlier this year, Jehangir Randeria had also secured second place, winning the silver medal at the National Championships held in Bangalore (June 2022).​ Adds Jehangir, "Being passionate about fitness and bodybuilding, during the 2020 Covid lockdown, I acquired my Elite Trainer certification from ISSA (International Sports Sciences Association, USA) by completing their Personal Training, Sports Nutrition and Bodybuilding Specialist courses.​ I would be glad to help our community members with their fitness related queries."
Having won the Mumbai Titles, the dynamic father-son duo will now compete in the Maharashtra Shree State Competition, to be held in Ratnagiri, (Maharashtra), on 25th and 26th December, 2022. Their win here will see them through to competing in the nationals. But before that, they will be competing on 17th December, 2022, in the 'YMCA Bodybuilding Championship', at Colaba, Mumbai; followed by the 'Valor Classic Bodybuilding Championship' on 18th December, 2022, at Bhandup, Mumbai. Here's wishing the dynamic and inspiring father and son duo the very best to continue their brilliant winning streak and earn greater laurels for the community and the nation!
Latest posts by PT Reporter
(see all)