On 3rd December, 2022, Parsee Gymkhana organised the fifth edition of one of its most popular and sought after events – the 5th All Zoroastrian Arm Wrestling Competition. The event, which drew a large and excited audience of around 600 people, was graced by Chief Guest – Justice Shahrukh J. Kathawalla (ret'd). Though the Guest of Honour, Jehan K Daruvala – Formula 2 racing champ – was unable to be present, he shared a warm and inspiring message which was screened at the event. The event was judged and conducted by the officials of the Maharastra Arm-Wrestling Association, Nagpur (affiliated with PG) and compared ably by Hutoxi Doodhwalla, assisted by Behram Irani.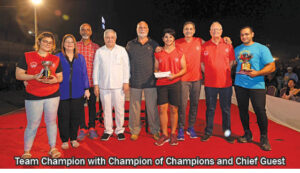 With pre-event preparations spanning 3 months, the event saw a total of 53 competitors – 49 from Mumbai, 3 from Ahmedabad and 1 from Dahanu. Of the 44 men and 9 women participants, the eldest man was 80 years and woman – 56 years; and the youngest male and female participants were both 12 years of age.
There was much cheering by the super excited audiences as the participants competed, showcasing their sinews and power. During the course of the evening, a special 'Body Beautiful' display was demonstrated by Jehan Irani – winner of 3 gold medals at the All-India ICN Contest Posing Demonstration, held last month. A rich tribute was paid to four arm wrestlers – Burzin Parabia, Yezdi Panthaki, Cyurs Puniwalla and Ardershir Khushroshi – who had passed away due to the pandemic.
The event was sponsored by WZO Trust Funds, Central Bank Financial Services Ltd., Late Er. L T Antia Trust, Shri Bal Vyayam Mandir, Fast&Up which provided hampers with health products and a generous, anonymous donor. Kudos to PG's committed organising team and staff for working shoulder to shoulder in putting up this thrilling event, which displayed a raw show of strength and dedication to the sport of Arm-wrestling, earlier dominated by Parsis!

Latest posts by PT Reporter
(see all)