Parsi Times is delighted to share Republic Day honours in the form of the Padma Shri – one of the nation's highest civilian honours – bestowed upon two of our exemplary community members; An island named after a Param Vir Chakra (PVC) Awardee; and an Indian Army brave-heart conferred the prestigious Ati Vishisht Seva Medal.
While Coomi Nariman Wadia and late Areez Khambatta (posthumous award) were conferred the prestigious Padma Shri on the eve of India's 74th Republic Day, an island in the Andamans has been named after PVC Awardee – Lt. Col. Ardeshir Burzorji Tarapore, as 'Tarapore Island', on 23rd January, 2023, by PM Modi, where 21 Islands in Andaman and Nicobar were named after recipients of India's highest military decoration – the Param Vir Chakra. Major General Zubin A. Minwalla, from the Indian Army, was conferred the prestigious Ati Vishisht Seva Medal for Devotion to Duty, as part of the Gallantry awards approved by President Droupadi Murmu.
Areez Khambatta was posthumously conferred the Padma Shri in the field of Trade and Industry while Coomi Wadia was awarded the same for her contributions in the field of Arts.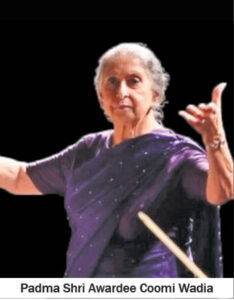 89-year-old Coomi Wadia is recognised internationally as a Conductor of choral music and for her definitive first performances of new music from across the world, especially from India. During a time when women conductors were rare even in the West, Coomi Wadia blazed a trail as India's first female conductor. She rose to prominence with her innate talent and musical genius, bringing home the 1st prize for Overall Excellence at the IX International Choral Song Festival in Poland, in 1974. She has been the Music Director and Conductor of the Paranjoti Academy Chorus for 55 years, post the demise of founder Dr. Victor Paranjoti, in 1967.
Her mission was to introduce new western choral music into India and open the eyes of the West to the beauty and sonorities of Indian music. Western audiences were awed watching sari-clad women and men in bandh-galas singing western and Indian music. Coomi Wadia raised the awareness of Indian talent and has been a brand ambassador for India right from the 1960s. The musical excellence of the Paranjoti Academy Chorus under Conductor Coomi's baton has been acclaimed internationally. At the 'Stuttgart Partnersingen', a festival of the sister cities of Stuttgart in 1981, Coomi was selected to conduct the final concert, with over 700 singers.
Industrialist, philanthropist, ex-Chairman of WAPIZ, and Ex-President of the Ahmedabad Parsi Panchayat, most popularly and fondly remembered as the founder of 'Rasna' (the world-famous soft-drink concentrate), Areez Pirojsha Khambatta, passed away just a couple of months ago, on 19th November, 2022, in Ahmedabad, Gujarat, at the age of 85.
The Ahmedabad-based, family-owned firm today boasts of a diversified portfolio of spreads, beverage concentrates, soft-drinks, and energy drinks, with a presence in over 60 countries. It has nine manufacturing plants, and a distribution network with 26 depots in India, besides 200 super-stockists and 5,000 stockists, with a sales force of 900 covering 1.6 million outlets.
Under Khambatta's watch, Rasna won various national and global awards including the prestigious Superior Taste Award 2008 instituted by The International Taste and Quality Institute, Belgium Cannes Lions London, Monde Selection Award, etc. Areez Khambatta contributed immensely to Indian industry, business and societal development as Commandant of Ahmedabad Home Guards and Civil Defence for twenty years. He was the recipient of the President of India's Home Guard and Civil Defence Medal, as also the Paschimi Star, Samarseva and Sangram medals. He was honoured with the National Citizen's Award for 'Outstanding Contribution In The Field Of Commerce' by then President of India – Shankar Dayal Sharma.
On 23rd January, 2023, Prime Minister Narendra Modi named 21 Islands in Andaman and Nicobar after recipients of India's highest military decoration, the Param Vir Chakra – the occasion being Netaji Subhash Chandra Bose's 126th birth anniversary, which is officially observed as Parakram Diwas (Day of Valor). The second largest island in the Andamans was named after PVC Awardee Lt. Col. Ardeshir Burzorji Tarapore as 'Tarapore Island'.
Born in Bombay, Lieutenant Colonel Ardeshir Burzorji Tarapore, PVC (18 August 1923 – 16 September 1965), was an officer in the Indian Army and a recipient of the Param Vir Chakra, India's highest award for bravery. He participated in the World War II,  in the Middle East. During the 1965 Indo-Pakistani War, Tarapore led the regiment in several tank battles, and was martyred in one such battle at Butur-Dograndi, on 16th September. Under his leadership, the regiment destroyed sixty Pakistani tanks. Service towards the nation ran in the Tarapore blood, as Ratanjiba, one of Tarapore's ancestors, served as a military leader under Chhatrapati Shivaji.
Major General Zubin A. Minwalla, from the Indian Army, was conferred the prestigious Ati Vishisht Seva Medal, by the Indian President on 25th January, 2022. He was commissioned in 4/9 Gorkha Rifles in 1989 and has served many operational tenures in Eastern and Northern sectors of India. He has commanded a brigade on the LOC in North Kashmir as a Brigadier and was awarded the prestigious Yudh Seva Medal, on Republic Day 2017. Currently serving as the Commandant of the Indian Training Team in Bhutan, he was posted as Brigadier General Staff of a Desert Corps and has commanded a division in Arunachal Pradesh. He has been an alumnus of RIMC, NDA and NDC.
Latest posts by PT Reporter
(see all)