The Seth Nanabhoy Bejonji Chokshi Dar-e-Meher, at Panchgani, celebrated its 92nd salgreh this year, which coincides with the auspicious Atash-nu-Parab (Adar Mah – Adar Roj) which took place on 21st April, 2023. This year's celebration was special as it was at full scale after the covid years, drawing in over 50 devotees along with the Trustees present for the Salgreh nu Jashan, at 11:10 am. The hour-long Jashan ended with a Humbandagi and was followed by several Maachi offerings through the day. The audience was offered chasni, snacks and cold drinks.
The evening brightened up with the traditional 'Fala ni Machi' at 7:00 pm, offered by Panthaki Er. Hoshang Bhandara. He shared significant information on the development of the Agiary over the years, especially the last 12 years of his presence here. He shared that this was the 12th Salgreh of the Agiary under his tenure and through the many tough times, two things that have remained constant were the blessings of the Atash Padshah and the support of the Agiary Trustees who have stood by him in all his decisions for the betterment of this Agiary building, Dastoor quarters, Agiary garden and the huge land of around 10-12 acres which form the Agiary compound.
Panthaki Bhandara has always prioritized the cleanliness and upkeep of the Agiary building and personally ensures that the garden around the Agiary building is flush with flora. He was happy to share an increase in the number of visitors over the last couple of years, post covid, for which he extended special thanks to Parsi Times and other social media sources who helped spread a good word about this Agiary, encouraging the Parsi Zarthostis who come on holiday to Mahableshwar and Panchgani to pay their respects to the Atash Padshah.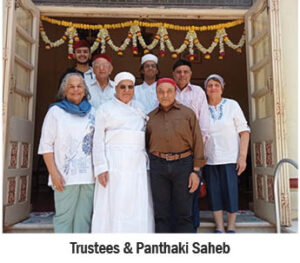 He wished for more Zarthostis to visit and promote this Agiary as well as other Agiaries for our places of worship to survive and for our religion to thrive, and concluded with sending blessings to all PT readers and the community. Ushta Te!
Latest posts by Khushroo P. Mehta
(see all)