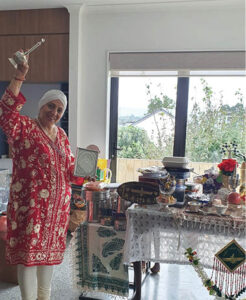 The auspicious Avan Ardvisurbanu Parab was celebrated in New Zealand (aka Kiwiland) at Cockle Bay, Auckland with Namaan to the waters with a Humbandagi and the rendition of melodious Monajats – all prayed together by the small, but close-knit and fun-loving Zoroastrian community living there.
The lovely function was organised as always by the very popular Kiwi resident Benifer Porus Irani, who always leads from the front for celebrating auspicious occasions! Homage was paid to the Divinity of the Waters – Avan Ardvisurbanu and everyone enjoyed delicious Dar-ni-Pori and drank Sherdi Juice (sponsored by Mazda Builders Ltd.).
Even a birthday cake was cut on the day for young Alisha. Everyone had a gala time bonding and enjoying as a community. The function concluded at the new home of Benifer and Porus Irani, which was beaming with the specially prepared, auspicious Jamshedi Navroze Soprah table.
Latest posts by PT Reporter
(see all)