With summer holidays marking the end of exams, Homavazir's 11th CBDA Scouts held a fun and exciting summer camp, from 27th April to 1st May, 2023, at the J N Petit Sanatorium, in the quaint town of Bordi, besides the sea.
A total of 28 cubs, scouts and scouters attended the camp, starting out with a bus journey to Bordi. The flag hoisting marked the official commencement of the camp, followed by general instructions, as patrols settled into their allotted rooms and got busy with camp chores, modeling bridges, patrol flags and gadgets.
In addition to being a lot of fun, camping is excellent as it disciplines boys and trains them to be courageous so that they become model citizens of tomorrow.
Each day began with exercises followed by flag hoisting, uniform and room inspection, to incluclate a sense of cleanliness and orderliness. Other morning activities included thrilling stunts like monkey crawl, climbing rope ladders and pyramid competitions. Face masks were creatively crafted and used later in the identification contest – 'Who is Who'. Afternoons were devoted to training in first aid, rescue techniques, stretcher drills, learning knots and mapping, as also quiz competitions with prizes.
The evening was a time for competitive games and activities like baseball, kite flying on the beach or swimming at a pool resort. Night activities included observing the Milky Way through a telescope and learning about planets and constellations and other games played in darkness to ingrain fearlessness in young minds. The night would end with prayers followed by the devotional monajat 'Jaya Zarthost'. The highlight was the campfire on the final night where the boys indulged in merrymaking, performing skits, songs and dancing, having learnt lessons in humility, service and kindness.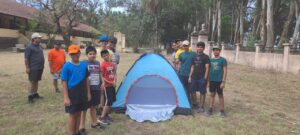 Special thanks is conveyed to the kind hospitality of Mehroo Shroff – the sanatorium manager for providing accommodation and delicious meals throughout the camp, as also to the Trustees of N M Petit Charity Fund for generously allowing the use of the sanatorium.
Latest posts by PT Reporter
(see all)