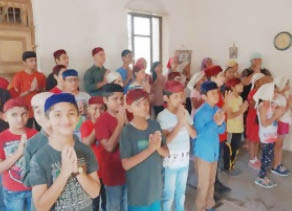 The WZO Trust Funds, the community's premiere non-profit organization devoted to the cause of community welfare for decades, organised a fun and exciting, five-day Summer Camp for Parsi Zoroastrians children between nine and sixteen years of age, on 1st May, 2023. Eighteen girls and twenty-four boys participated at this camp which was held in Navsari, at the Bai Dosibai Kotwal Parsi Orphanage.
Each day commenced auspiciously with morning prayers at the Dadgah in the Orphanage, followed by breakfast. Various prominent community leaders of Navsari took the time to visit the camp and taught the students about various life-skills, including effective verbal communication, importance of imbibing good listening skills, dynamic leadership, how to become positive role models and public speaking. Through various activities and games, the children also learned how to assemble teams, build concentration and strengthen their moral values. They were made to imbibe the importance of prayers and doing the 'kusti' in their day to day lives.
The afternoons were kept for learning drawing, crafts and painting skills, where the participants practiced various creative and unique art skills of painting on canvas, resin art, lipan art and mirror artwork, under the able guidance of Shiraz Perviz Gandhi and her team from Shiraz Gandhi Art Foundation. The children also prepared various home utility articles like name-plates, photo-frames, key hanging board and decorated mirrors.
On the final day, the young guns took off for a day-picnic to Ambik Riverside Camp and Resort, Kachholi, 15 kms from Navsari. Here they thoroughly enjoyed various adventure activities, splashed around in the swimming pool and boogeyed away in a rain-dance.
After five days, the happy campers returned home, having had a lot of fun, but more importantly, having imbibed new social, emotional and cognitive skills, which will surely prove beneficial to them in the future.
The WZO Trust Funds' Trustees extend gratitude to Dr. Shehnaz P Billimoria – Principal, Daboo Law College; Dr. Hufriz Y Deboo – Professor, K P Commerce College; Gulshan K Vandriwala and Bakhtavar D. Minocherhomji, for their honorary contributions. They are also grateful to the Trustees and Superintendent of Bai Dosibai Kotwal Parsi Orphanage, Sunnu G. Kasad, Percy Surti, Simin Bharda and Sharmin Tamboly, for their support through the camp.
Latest posts by PT Reporter
(see all)