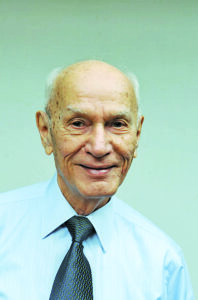 Doyen of Indian industry and noted philanthropists, Darius M Forbes passed away in the early hours of 11th August, 2023, at age 97. He was one of my mentors and instrumental in helping me carve out a successful and fulfilling carrier in the philanthropic sector.
I was in my mid-twenties when he interviewed me for an opening at a not-for-profit company which he along with HT Parekh (Founder of HDFC Ltd.), Rusi M. Lala (Director Sir Dorabji Tata Trust) and R. R. Chari (Commissioner of Income tax) had just established. One look at me and my CV and he said, "You are still a bacha!" What he meant was I was still a fresher with no experience. My reply to him was I am ready and willing to learn and be moulded. To my good fortune, I was selected for the job and I have been with the Centre for Advancement of Philanthropy now for 37 years and what an amazing professional journey it has been. Thank you, Sir!
The Forbes Marshall Group: Darius Forbes founded the Forbes Marshall Group which has been involved with steam engineering and control instrumentation solutions that work for process industry. But the Group, thanks to its visionary founder, is proud of much more than just the products they make. They are committed to creating a progressive work culture that uniquely puts people first. They are concerned with the community beyond their factory's gate.
From a modest, Mumbai based trading company, today it is a multi-divisional, corporate group, manufacturing advanced engineering products for all of India's core industries. Besides serving customers and making pioneering contributions to Indian industry, Forbes Marshall has always been concerned about meeting their obligation to society. Their Community Service programs are guided by a desire to be an economic, intellectual, and social asset to the nation and the community in which the company operates.
Almost a decade after Darius Forbes interviewed me for the job, I ventured to interview him at his beautiful home at Korgaon Park in Pune to capture his thoughts on philanthropy and the role of industry. We chatted for over an hour, over tea. He told me, "Industrial growth brings in its wake various social problems and it is the moral and social duty of the corporate sector to address them." He  believed that Industry should function in close partnership with society and give back to society what it takes from it, for its development and growth.  While Industry provides employment opportunities and thus brings socio-economic progress, it also displaces people and the onus is on Industry to provide proper infra-structural facilities.
On that day at his residence, taking his thoughts over half a century ago, he philosophised, "When we purchased about ten acres of land from various farmers in Pune (@ Rs. 2,500 per acre) for our factory, we realized that they would be 'cash rich' for only a short period of time. What after the money was over? So, we created employment opportunities for them through vocational training, especially for their children. With our factory situated outside city limits, we first catered to proper transport for commuting long distances, followed by supply of electricity, water and sewage facilities, not just for the factory but the entire Kasarwadi village. Gradually, the village with a then population of eight hundred, began to transform into a township. Today, we run a hospital and several welfare and development programs. This is neither a favour nor charity. It's our social obligation. We are simply giving back to society what we gained from them. It's a process of harmonious living with our neighbours."
Corporate Social Responsibility: While CSR became mandatory under the Indian Companies Act only in 2014, Darius Forbes practiced it long before corporate India was introduced to this term. Over the years various community development programs have been implemented including adult literacy classes, vocational training and income generation programs for women, initiated by his daughter-in-law – Rati. Creative recreation classes have been run to help children unlock their potential and learn skills through social interaction.
Medical Facility: An accident, which Mr. Forbes witnessed while driving on a rainy day to the factory, moved him to create a medical facility in the company's spacious complex at Kasarwadi. The Shehernaz Medicare Centre, established in 1966, when no medical facility was available for miles along the Bombay-Pune highway, and named after Mr. Forbes' departed sister-in-law, has grown from a one-physician clinic to a fully equipped hospital and laboratory for clinical analysis.
Motivating Force: When asked about the motivating force behind the group's philanthropic programs, he said, "We recognize that government has its limitations. Companies with their professional experience and expertise can contribute significantly to the nation's development." He stressed the need for "personal involvement" and "commitment beyond writing out a cheque to an NGO."
I then asked him how a profit-making company could benefit by adopting a social agenda. "When corporate taxes were as high as 70%, tax deductions for charitable donations made huge business sense. But with today's taxes at 30%, tax deductions are hardly attractive. It is the 'Satisfaction' – that expression one sees on the face of the person whose life one may have touched – which is the true benefit one derives. Caring for the neighbourhood, a company earns respect, confidence, goodwill and support of the local community," he shared.
Mr. Forbes lamented that companies often concentrate only on issues like 'education' and 'health', ignoring 'culture'. He felt that government should adopt policies to encourage industries to generate more wealth, which in turn could be channeled for welfare and development. Some of the biggest trusts and endowments are a result of the wealth generated during the industrial revolution.
He also believed that 'philanthropy' covered a wider human interest than just working for or among the 'poor and needy'. He recalled his meeting with trustees of a Japanese Foundation during the mid-eighties, who were funding research to develop 'fuel efficient and environmentally friendly automobile engines'. He felt this was a classic case of prudent use of wealth, where all (rich and poor) could benefit from, considering, 'environment' is an issue that affects all classes of people globally.
Mr. Forbes was a visionary, a man far ahead of his times and an astute industrialist. But above all else, he was a very thoughtful human being who genuinely cared about those who worked with him. I have been very fortunate to not only have known him but to have been mentored by him. His greatest gift to me was the gift of sound, professional values. He taught me that success and happiness is a by-product of the work that you do with a sense of purpose!
Latest posts by Noshir H. Dadrawala
(see all)