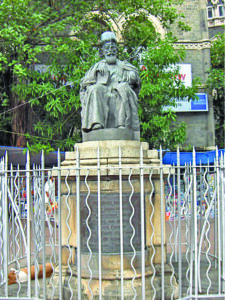 Known as the 'Grand Old Man of India' and the 'Unofficial Ambassador of India', Dadabhai Naoroji (4 September 1825 – 30 June 1917) was one of our community's greatest legends and one of the nation's greatest leaders, having known to have influenced among many others, including Mahatma Gandhi, Mohamed Ali Jinnah and Sir Pherozeshah Mehta.
The 4th of September marks the Birth Anniversary of the multifaceted personality that was Dadabhai Naoroji – as a nationalist, statesman, educationist, economist, scholar, social reformer and parliamentarian, who served as 2nd, 9th, and 22nd President of the Indian National Congress. He was also an author, and his book – 'Poverty And Un-British Rule in India' brought much attention to his theory of the Indian 'wealth drain' into Britain. His sense of fairness and fearlessness was legendary.
As an ordained Zoroastrian priest, Dadabhai refuted all forms of superstitious beliefs and practices that were being nurtured by many fellow Parsi Zoroastrians. In 1851, he founded a society called the 'Rahnumae Mazdayasne Sabha', to restore the Zoroastrian religion to its original purity and simplicity. This society is still operational in Mumbai. He also brought out two religious magazines – 'Dharma Marg Darshak' and 'Rast Goftar' – to educate community members about our religion. Though some Parsi critics indulged in calumny, he declined descending to their level and instead challenged them to meet him on that ground. In the end, the light of reason succeeded in dispelling the darkness of ignorance and superstition, and the religion of Prophet Zarathushtra was weaned from alien accretions.
He became the Diwan of Baroda, while advising and assisting Baroda's Maharaja – Malharrao Gaekwad, in managing various issues with British Agents, and pleading his case in London. For this, the Maharaja offered Dadabhai the post of Diwan (Prime Minister). Accepting this offer, Dadabhai told the Maharaja that as Diwan, his only ambition was to bring about reform in the State's administration and would serve as long as he held the Maharaja's confidence and was useful, but he would leave if the mutual goodwill was lost. He went on to introduce several reforms, but later resigned as he was too honest and straightforward to be of long term service to a weak Maharaja of a State ridden with corruption. As a tribute, the Maharaja Sayajirao University of Baroda has named one of its student hostels as Dadabhai Naoroji Hall.
Even when critical, Dadabhai always maintained fairness. The root principles of his political philosophy was India's wrongs should not blind her to the benefits of British rule. On 31st January, 1897, in a representation made to Welby Commission, Dadabhai Naoroji underlined, "Nobody can more appreciate the benefits of the British connection than I do, but it must be understood that the British Empire in India is built up entirely with the money of India, and, in a great measure, by the blood of India."
In 1886, he contested in the British Parliament elections but was defeated by his Conservative opponent who was backed by personal influence and wealth. But this failure made Dadabhai only better, not bitter. He returned to contest and tasted victory, becoming the first Asian to be elected to the British Parliament, despite Prime Minister, Lord Salisbury calling this fair skinned Indian Parsi, "a black man". Contrary to all expectations and in keeping with the British sense of fair play, these words caused a sensation all over England, and gained more publicity for Dadabhai, improved his reputation and standing, and got him a great deal of support. In fact, even Queen Victoria was upset! As a result, Dadabhai was elected to the British House of Commons in 1892, the first Indian to enter the House of Commons more than a century ago. His victory was by a narrow margin of votes and therefore the English who had difficulty in pronouncing Naoroji found it easier to call him, 'Mr. Narrow Margin'!
In the midst of aggressive political campaigns, Dadabhai was greatly maligned. But instead of retaliating, he built his character as such, that no one would believe his detractors. He was elected to the British Parliament on 5th July, 1892 and entered the House of Commons as a Liberal, representing the Central Finsbury constituency. He delivered his maiden speech in the House of Commons in August 1892. Dadabhai's commitment as a Member of Parliament was exemplary – making the time where there was apparently none, duty before self and determination to make a difference despite all odds.
Dadabhai's success on being elected to the Parliament was followed by two other Indian Parsis – Sir Muncherjee Merwanji Bhownagree and Sir Sorabji Saklatvala. Dadabhai's reputation and his help facilitated the political careers of both these gentlemen. Sadly, Dadabhai was not successful in getting himself elected for subsequent terms of office in the British Parliament. However, he took his defeats calmly and gracefully. In a letter to Sir George Birdwood, he wrote, "The wave against the Liberals has been irresistible. However, I am not depressed or discouraged. In the well-nigh fifty years of my public life, I had my success and reverses and the present defeat cannot affect me more than any did before".
Much later, when contesting from the North Lambeth constituency various false and fabricated allegations were levelled against him. Sir Wedderburn could foresee that the tide was not in favour of Dadabhai's victory and he tried in vain to persuade Dadabhai to withdraw from politics. Dadabhai's response was, "I cannot withdraw from the contest on any account. I shall be 80 next September and this is my only and last chance to stand. Nobody knows better than you that I have no ambition or self-interest in this work, but simply a duty to humanity, to hundreds of millions of our suffering fellow-subjects in India and the suffering poor in this country." Dadabhai lost the election but was, as always, graceful even in defeat. Even the South London Press observed, "Mr. Naoroji is generous. Questioned as to the result of the North Lambeth election, he remarked that he had nothing to say except that he was pleased that a Liberal had won the seat."
Dadabhai's life exemplifies the pursuit of excellence – constantly going beyond his call of duty, doing more than what was expected of him, striving and maintaining the highest standards, looking after the smallest detail, going the extra mile, doing his best in everything and in every way and a lifelong race in getting ahead of himself, instead of others. It is said, the secret of happiness is simple: find out what you truly love to do and then direct all your energy towards doing it. Dadabhai did just that. His true love was improving the quality of life for all Indians and he directed all his energy in the pursuit of that lofty goal. He was indeed a true follower of Prophet Zarathushtra's precept, "Happiness to him who makes others happy."
Latest posts by PT Reporter
(see all)