Th
e sky over the Rustom Baug grounds was full of 'special stars' on 8th May 2016. Motivated by Kumi Daroowala and the Zoroastrian Relief Fund, and sponsored by the Lions Club of Byculla and ZYNG, 'Special Stars 2016' brought together differently-abled people from all parts of the city who participated in various activities organized specially for them.
Compered by ZYNG member, Darius Tirandaz, the event witnessed a turnout of one hundred and fifty people and forty specially-abled people. The children of Om Creations and Ahura Support came together for the third such event in the last four years. Present that evening was Smita Kharbanda and her daughter Alesha, founders of 'Eco Kids', which engenders and inculcates love for nature and ecological abundance in children. Jenai Kavarana, founder of 'Special Family Support' group, engaged the children in drawing, sketching and colouring, showcasing some brilliant talent.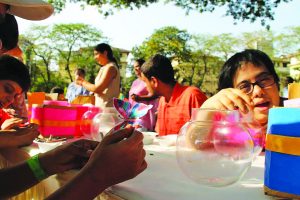 After an interval of delicious snacks, a delightful magic show presented by Mehli Bhumgara had the children excited with his feats of changing balls of fire into doves and strings of colours into scarves!

This was followed by an Indo-western dance by Sharmin Dumasia, a passionate champion ofAhura Support. Then on it was dancing forall! ZYNG representative, Burgess Vania said, "Special Stars is very close to my heart and we feel happy when they come and enjoy themselves." Events such as these provide the perfect conditions for our differently abled children to hone their talents.
Latest posts by PT Reporter
(see all)