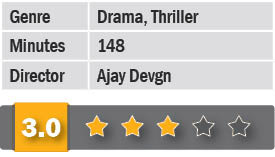 When a film opens with the cryptic disclaimer, 'Somewhat inspired by…', the viewer is entitled to tread cautiously throughout the movie.
On 18 August 2015, a Jet Airlines flight from Doha to Kochi hit turbulent weather and the flight deck crew had to go through similar relentless investigations. Seven years later, Ajay Devgn (Capt. Vikrant Khanna) directs himself in 'Runway 34', apparently based on the 2015 incident. With a cocky demeanour and his RayBan aviators stuck firmly in place, he prefers to be known as Mr. Photographic Memory.
With hardly any backstory, we are told that he's an ace pilot. Devgn monopolises the first half with his chain-smoking, domineering attitude and conversing with his First Officer Tanya Alburquerque (Rakul Preet Singh) on the Skyline flight to Kochi. "At 35,000′ there are no feelings, only calculations", he tells her at one point in the film. When not in the cockpit, the camera pans towards the cabin, concentrating on a handful of passengers – a YouTuber, a boisterous and rude businessman, a Parsi mother-daughter duo (filmmakers still think that the only way to portray the community is to throw in a couple of 'haa dikra, nai dikra').
The impending crash due to the torrid weather and turbulence concludes the first half and sets up the second half. It's a one-man show in the second half with the cynical and intimidating Narayan Vedant (Amitabh Bachchan), as the legendary head of Aircraft Accident Investigation Bureau, trying his utmost to nail the two pilots. Boman Irani plays Suri, whose single point agenda is to salvage the reputation of his Skyline. And for that he has no qualms in throwing his employees to the wolves. Boman's role could surely have been fleshed out better.
The VFX and the background music in the first half, and Amitabh's performance are the saving grace of the film. In the supporting cast, Aakanksha Singh as Devgn's wife is average while Angira Dhar as Boman's trouble-shooter, impresses. This marks Ajay Devgn's third directorial feature after 'U, Me aur Hum' and 'Shivaay'.

Latest posts by Hoshang K. Katrak
(see all)