With Diwali just around the corner, here are some real simple and super yummy Diwali sweets you can try to make at home, on your own!
INSTANT COCONUT BARFI
Ingredients:
4 Cups – Desiccated Coconut; 4 cups – Sugar syrup; 2 tbsp – Khoya; 1 tbsp – Almonds (blanched and shredded); 1 tbsp – Pista (shredded and blanched); 1 tsp – Ghee
Method:
Add sugar and water in the same proportions in a pan. Start heating the mixture and keep stirring continuously, else the sugar will stick to the bottom and caramelize. When the sugar dissolves and it becomes nice and thick, turn off the flame. To prepare coconut burfi, in a thick bottomed kadai, mix the coconut and this sugar syrup. Roast until it thickens up and acquires a halwa-like consistency. Add the pistachio and almonds. Brush on the ghee in a tray and spread the coconut batter on it. Smoothen out the edges of the batter and cut into burfi shapes when it cools down. Serve.
BOMBASTIC BESAN LADDOOS!
Ingredients:
200 gm – Ghee; 350 gm – Besan (gram flour); 175 gm – Castor sugar; 1.5 tsp – Cardamom powder; 2 Tbsp – Dry fruits; ¼ tsp – Saffron strands soaked in 1 tbsp water
 Method:
Heat ghee in a large pan. Add besan and cook on a slow flame, stirring continuously. Remove the pan from the flame when the ghee separates and the besan changes color. Cool for 10 mts. Stir in sugar, spice, dry fruits and saffron. Prepare even sized ladoos and serve decorated with extra dried fruit (and silver leaf, optional).
PERFECT PINEAPPLE HALWA
Ingredients:
250 gm – Paneer / Ricotta cheese (crushed); 450 gm – Canned Pineapple (crushed); 60 gm – Sugar; 2 tbsp – Ghee; A pinch – Saffron; 30gms – Pistachios sliced; few drops of yellow food color (optional)
Method:
Mix the cheese, ghee and crushed pineapple in a pan, place it on the stove and bring to a boil. Once it starts to bubble, add the yellow food color. Cover and let it cook on medium till water evaporates.
Add the sugar and saffron and saute for 5-10 minutes, or till it leaves the sides of the pan. Transfer on to a serving dish and garnish with chopped pistachios.
QUICK KAJU BARFI
Ingredients:
½ Cup – Water; 6 tbsp – Sugar; 1 tsp – Saffron; 1 tsp _ Cardamom powder; 1 Cup – Cashewnut Powder
 Method:
Add sugar, water and saffron in a wide pan, place on gas and stir continuously until sugar dissolves completely. Add cardamom powder and stir until it becomes thick and sticky. Now, add the roughly powdered cashewnut to the sugar syrup and cook over low heat. Stir and cook continuously to make it a thick single lump. Do not stop stirring otherwise lot of lumps will form and the mixture may over cook. Now let it cool down till room temperature. Take an aluminium tray and transfer the prepared mixture to it. Make it a soft dough so it can be rolled easily. Using a rolling pin, roll it out in a round shape. Using a knife, cut it into pieces of any shape of your choice. Separate the pieces and your homemade kaju barfi is ready to eat!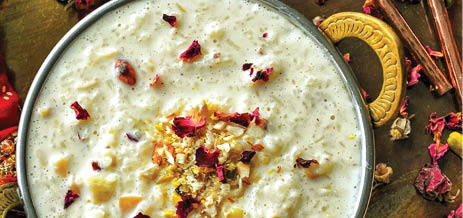 SCRUMPTIOUS RICE KHEER
Ingredients:
¼ Cup – Basmati rice; 6 cups – Milk; ¾ cup – Condensed milk; ¼ cup – Sugar; ½ tsp – Green Cardamom powder; 10 gms – Almonds (slivered). For Garnishing: 20 gms – Slivered Almonds and 30 gms – whole Pista roasted.
Method:
Clean, wash and soak rice for 30 minutes. Drain and rinse the rice again and set aside. In a heavy bottomed pan, boil milk and add the drained rice. Simmer for 20 to 25 minutes, stirring continuously. Add condensed milk and continue stirring. Now add sugar, cardamom powder and slivered almonds. Mix well. Serve hot or chilled, garnished with slivered almonds and roasted whole pistachio nuts.
(To further enhance the flavour, you could add a pinch of saffron dissolved in milk or 2 tsp rosewater, after switching off the gas.)
Latest posts by PT Reporter
(see all)