The Arethna Sisters, Jasmin and Armin have over 40 National Titles to their Name!! These prestigious awards include 5 Asian Medals, the Shiv Chatrapatti Award and the Arjuna (State and National) Award.  Such has been the single-handed contribution of this family to Indian cycling. Jasmin describes her ride into arena of competitive cycling, the tough journey and the drive that made her overcome all odds to emerge the winner all the way! 
Most of us learnt cycling as children. Some consider it an essential life skill that stands us in good stead for the future. As Parsis, certainly that sense of balance is important when our young boys make the imminent transition from bicycles to the omnipresent motorcycle! But for some, like Jasmin Arethna and her sister – Armin, cycling becomes a passion to be pursued to the exclusion of all else! After all, it takes a lot of sacrifice and grit to become a national level cyclist with a few international medals thrown under her blet… umm pedal!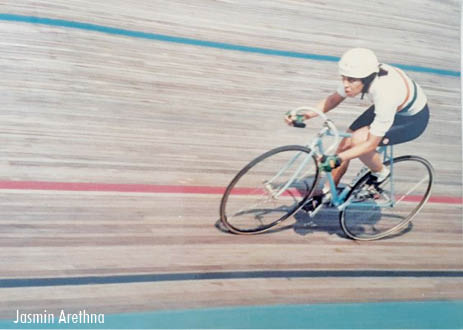 The Beginnings… It was by chance that Jasmin and Armin took up competitive cycling. An uncle once suggested that Armin participate in an upcoming race. She did. And won it! Gradually, the family started participating too … her uncle, cousins and father. Inspired by them, at just age 13, Jasmin participated in her first National Games, making a clean sweep of all the gold medals in cycling for the Under-14 and Under-16 categories! There's been no looking back since. 
Medals Galore… In a span of just a decade Jasmin went on to accomplish an enviable haul of 34 National titles, of which 33 were individual titles. She also won 3 medals at the Asian Championships in 'Sprint', 'Individual Time Trial' and 'Team Pursuit'. She was bestowed with the 'Shiv Chhatrapati Award' – the highest prestigious sports award honoured annually to state players by the Government of Maharashtra. In the 1985 National Games, she was awarded the title of 'Best Sports Woman', celebrating it alongside a platform shared by sporting greats like P T Usha and Shiny Wilson. Her sister Armin was honoured with the Arjuna Award.
A Rocky Road… It wasn't a smooth ride to success for Jasmin or Armin. Behind every medal lies a story of extreme commitment and hard-work by the sisters and their family. No sponsorship or monetary reward from the government made it that much more difficult. Says Jasmin, "When there is an athlete in the house, everyone sacrifices. We invested a lot as cycling is a very expensive sport and it wasn't easy for us to manage, coming from a middle-class, Parsi family. My parents wouldn't attend parties, get-togethers or functions because we would have early morning practice. My father was my main coach and while he took care of my training, my mother took charge of our special nutrition." 
Being a national level player also meant attending national cycling camps. "I remember at one camp, we were served the same rajma-chaval and mutton-gravy and rice for lunch and dinner daily, along with some potato and capsicum vegetable for years at a stretch!! The accommodation was very basic with 18 of us in a dormitory, living out of a suitcase and no laundry facility," she shares.
It's More Than Just Wheels… Competitive cycling is much more than getting on a bicycle and peddling away. Yes, a natural inborn talent matters but perseverance, hard work and a level-head under stress go into making a national and international champion. Jasmin recalls, "We were fortunate that we had a good Russian coach – Vitas Zuberinus. He never missed a single practice session and was never late. His dedication was inspirational and set the precedent for us. Even in the rains, we would train with him, he'd tell us in his basic English – 'You no made of sugar, you no melt!" 
The competitive spirit was strong even during practice. An incident Jasmin revolves around a maximum weight lifting session. "We were so competitive, if one lifted a 100 pounds, the other would lift 105! And so, the session which was to last a few hours, consumed the whole day! Next day, none of us turned up for practice, my muscles were screaming in pain and I could barely pick up my toothbrush!" Training was also about endurance and pushing yourself to the limit. "I once cycled 120 kms in one training session!" she adds.
Coping With Apathy… While the family did all they could emotionally and financially, to support Jasmin and Armin's passion to pursue cycling greatness, the Government seemed a let-down. "So many promises were never kept. We were told that if we came home with a medal at the Asian Championships, we would be given a new cycle (costing around Rs. 1 lakh) but this was not done. It was quite discouraging. Often, we had to cope with petty politics, officials who wielded influence would decide which cyclist went to the games. I remember when we'd go for our State Championships, we'd have to be there an hour earlier just to sweep the tracks and make sure the trash on the velodrome was cleared of pieces of barbed wires, cardboard boxes, mud, gravel, glass pieces of bottles, etc., which could endanger the cyclist," says Jasmin.
Still, there were silver linings. "Once, during the 1980 Bombay Nationals, where Armin won, Avatar Gill approached my father and took our postal address and arranged for a subscription to a Russian Sports magazine. It was such wealth of information for us! Bear in mind, in the 1980's, we were practically closed off from the rest of the world and any information was hard to come by."
The Future of the Sport… Things have improved for women cyclists since Jasmin and Armin ruled the tracks. There are better facilities at camps; coaches understand the importance of nutrition; and equipment is better. Yet, says Jasmin, "most girls drop out of sports by the time they reach college. Cycling, in particular, does not find many takers as there are issues of conservative families not in favour of girls wearing skin-tight shorts. There's also greater focus on education and building a career. Cycling is not like cricket – you can't make a career out of it. What cyclists need is greater visibility and monetary support. There are so many women determined to compete, they have excellent potential but need support and training to compete internationally."
Today, Jasmin and her husband design and manage 5-Star health clubs, spas and wellness centres. She carries the determination, steely will and the ability to function under pressure, that she learnt from her cycling days into her business venture as well. 
Here's hoping her story will inspire other young cyclists who will ride to victory and glory, in the footsteps of the two cycling superstars – sisters Armin and Jasmin Arethna.

Latest posts by Razvin Namdarian
(see all)