Gourmet Extraordinaire Mahafrin Umrigar, is a successful home-chef, known to supply her delectable delights to big-wigs in Bombay and beyond. Cooking being a childhood passion, Mahafrin took to the kitchen as an excited ten-year-old, alongside her granny, and went on to kick off and expand her cooking and catering business exponentially. Her love for travel and her passion for food gives her the added edge of having insights into global palates and adds to the magic she weaves into her inimitable style of cooking Parsi dishes. Parsi Times shares with you some of her most-in-demand, delicious 'asli festive Parsi bhonu' that her patrons just can't get enough of – 'Lagan No Mutton Pulav-Dal'; 'Lagan Nu Stew'; and 'Authentic Bhing Ni Gharab'.
Lagan Nu Mutton Pulao Dal (Serves: 4) 
Recipe for Dal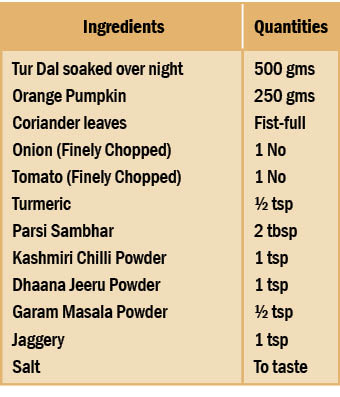 Method:
Fry onion till translucent.
Add ginger-garlic paste and all the powder masalas
Lastly add tomato, salt and soaked dal along with pieces of pumpkin.
Add one litre of water and cook for 4 whistles.
Once the cooker is cool, beat the dal and vegetable. Mix well.
Consistency of dal should be thick. Dal should look orangish in colour.
---
Recipe for Mutton Pulav
Method:
Marinate mutton overnight with all the powdered masala, curd, 2 tbsp of ghee, ginger garlic and crushed chilli-jeeru-lasan paste.
Take a patio or a flat, broad-based vessel. Heat the remaining amount and fry onions till translucent. Remove the onion and keep aside.
Now add 300 gms of curd in the ghee and let it cook till the ghee leaves the curd.
Add all the spices and marinated meat and cook on low flame for 20 minutes.
Lastly add fried onions and salt. Let it cook in its own water on a very low flame. Keep the lid covered and stir periodically.
Add 400ml of water and let it cook till the meat is tender and water is reduced to three-fourth.
Half cook the basmati rice in a different vessel. Keep aside.
Once the meat is cooked, layer the top with the half-cooked rice and add ghee on top.
Cover the vessel with the lid till the mutton flavor mixes with rice.
Garnish with boiled eggs cut into 4 halves.
---
Lagan Nu Stew (Serves: 4)
Method:
Peel all vegetables and cut into small pieces
Fry the powdered masalas, ginger garlic paste in oil
Then add tomato puree and cook on slow flame till the puree changes to dark red colour and the oil separates from the masala.
Add all the vegetables including the dry fruits, jiggery, vinegar and salt.
Stir constantly for 3-4 minutes and then cover with lid till the vegetables are cooked.
If needed, please add half a cup of water.
Garnish with coriander leaves and a small piece of butter.
---
 Authentic Bhing ni Garab
Method:
Wash and clean the bhing ni garab and pat-dry
Make a paste of all the dry masalas with vinegar / lemon juice and chilly garlic paste and marinate the garab overnight.
Deep fry the garab in a frying pan or a deep based vessel, for 3 minutes each side.
---
Latest posts by PT Reporter
(see all)