Parsee Gymkhana (PG) nurtures a team of celebrated star players – always motivated and dedicated to giving their best on field, regaling their ardent fans and followers. This dynamic unit, filled with high energy, hope, strength and positivity, ensures the growth of individual players while collectively doling out smashing team performances. It was a moment of great pride for PG recently, with Triple Honours – Winning the Talim Shield; the India Debut of PG's swashbuckling batsman – Surya Kumar Yadav; and talented wicketkeeper and batsman – Aditya Tare, smashing a winning century for Mumbai to hold the Vijay Hazare Trophy! Parsi Times Sports Reporter Binaisha M. Surti brings you the exciting action from Mumbai's Wankhede Stadium…
Parsee Gymkhana Wins Talim Shield Cricket Tourney:
Excellent performances by pacer Siddharth Raut (3-17), all-rounder Shams Mulani's (2-17) and 34 not out, along with PG skipper Vikrant Auti's unbeaten 39 in 25 balls (3 fours and 3 sixes) ensured Parsee Gymkhana (PG) winning the Padmakar Talim Shield T20 Cricket Tournament final V/s Sainath Sports Club (SSC), by seven wickets, at Wankhede Stadium, on 19th March 2021.
Winning the crucial toss, PG put SSC to bat first; they managed a paltry 124-9 in 20 overs. PG's bowlers Siddharth Raut, Tushar Deshpande, Yash Dicholkar, Ravinder Solanki, Shams Mulani and Aditya Dhumal held the opposition's reigns tightly, not allowing any free runs. The fielding was high-caliber, as skipper Vikrant strategically rotated the bowlers to ensure success. SSC's Makarand Patil top-scored with 19, while the rest were unable to successfully take off.
In reply, PG openers – Aakarshit Gomel and Vaibhav Kalamkar – started off with a fearless brand of cricket. The former smacked 2 sixes while the latter hit 3 fours. Nikhil Patil contributed 22 which included 4 boundaries, while Vikrant and Shams finally brought home the win with 125-3 in just 14.4 overs.
Speaking exclusively to Parsi Times, PG skipper, Vikrant Auti said, "I thank PG for believing in me and entrusting me with the leadership in the very first season. It's one of the best Clubs with great facilities, with genuine and hardworking people around. The team showed great character and put in valuable contributions."
Renowned coach, Vinayak Mane instrumental in PG's success, stated, "This victory is special as we were challenged by the Pandemic situation. I thank the PG administration, cricket committee members, Khodadad, Mayoor Bhatia for starting team-practices, promptly. The team worked out well with a few new talents joining us this season. Our new captain – Vikrant Auti is excellent in decision-making during matches. I wish the boys build up on this success as a team and achieve consistency."
Team PG's Aakarshit Gomel shared, "As a team we are evolving under the astute guidance of our coach – Vinayak Mane Sir, Khodu Sir, Mayoor Sir, our Physiotherapist Saloni… all work very hard behind the scenes and are doing a fantastic job. We at PG have a unique combination of youth and experience. Sharing ideas and experiences, helping each other during matches has been working out well for the team." Senior pro – Nikhil Patil added, "PG has been playing and gelling well as a team this season. We have been playing top brand of cricket, executing plans which we practise together. We plan to continue the same in the future."
The man of the hour – Khodadad Yazdegardi (Vice President and Cricket Secretary of Parsee Gymkhana; and MCA Apex Council Member) – team PG's biggest support system, concluded with, "It's a great feeling winning the prestigious Talim Shield. We've played just two finals in the Tournament's 72 years and have won both times! In fact, we played without 6-7 of our regular players as they were on duty for state teams. Our boys stood by each other through the five games, which was heartening to see. The environment built up by coach Vinayak Mane, captain Vikrant and senior players of the team, was very refreshing!"
Parsee Gym's Surya Kumar Yadav Makes India Debut!
PG is filled with pride as their star batsman – Surya Kumar Yadav – sparkles in Team India colours, having made his T20 debut for the country, V/s England (14th March, 2021) at A'bad's Narendra Modi Stadium. Having honed his skill over years, he's produced top knocks for PG, Mumbai State team, and IPL Mumbai-Indians. His sixes over fine leg, extra cover, stylist cover drives, flicks, pulls shots are a treat to watch. On 18th March, he smashed his maiden T20 half-ton 57(31) and bagged the 'Man of the Match' award.
In an exclusive chat with Binaisha M. Surti, Surya shares his greatest moment of success with Parsi Times, "I've always dreamt of playing for India. My passion for the game kept driving me to my goal. It was a surreal feeling to wear the India jersey! Indeed, a very emotional moment for me and I literally cried looking at myself in the mirror with the jersey on."
Speaking about how instrumental PG has been to his success, "PG has played a huge role in supporting me till date. In terms of practice, facility and matches played, also making arrangements for when I needed extra practice – that is very touching. The man who has always pushed me to achieve greatness is Khodu sir (Khodadad Yazdegardi). He motivated me to double-up my score after getting a hundred; kept instilling in me the importance of consistently playing a higher level of sport. 'Never get satisfied with anything. With a new day, start afresh,' he always says!"
On scoring his very first Half-ton and winning 'Man of the Match' Award playing for India, he shared, "I always dreamt of winning games for India. And it came true in my first game itself and then winning Man of the Match award in the next one was icing on the cake! I'm very delighted and plan to continue doing India proud and giving it my best for as long as possible."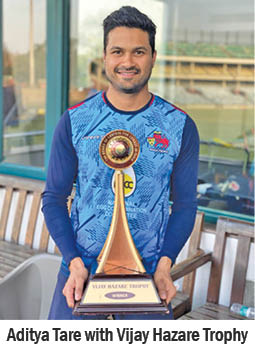 Aditya Tare's Magnificent Century Wins Mumbai The Vijay Hazare Trophy!
PG's highly talented wicketkeeper-batsman, Aditya Tare, brought in the Vijay Hazare trophy for Team Mumbai, notching up a brilliant, unbeaten century (118) – his first List A ton! Known for his cool and composed temperament, Aditya's stylish shots always attract supporters in whichever team he represents. Here's what he shared with PT's Binaisha M. Surti, about his first List A ton and his role as a senior in Team Mumbai: "It's a special feeling – my first List A ton in the finals! It's been long due but thankfully came when it mattered the most! Winning is a habit and Mumbai is used to it. I'm glad to be part of a few championship winning teams with Mumbai. We will do our best to now win the Ranji Trophy in the coming season. As part of Team Mumbai for a number of years now, I've enjoyed my time in the middle. I feel one of my strengths is my take-charge quality – whether I lead or not, hence sharing my experiences and leading by example is something I practice, and hopefully it will inspire a few younger team players too."
"PG has always been instrumental in helping all our players. I've been fortunate enough to work with Omkar Salvi and Vinayak Mane in the past 4-5 years and both have been phenomenal coaches. Last, but not the least, Khodu Sir has been a pillar of strength for not just me but the entire team!" concluded Aditya.
Latest posts by Binaisha M. Surti
(see all)