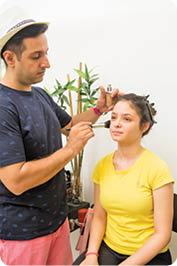 After long discussions and dwelling in great options, I picked Benaz as the first to be a part of the PT Makeover with me. Benaz is the perfect example of, "big things come in small packages". This little bundle of joy is a power station of ambitions, zest and energy. It's beautiful to witness the new generation filled with dedication and excitement towards exploring the world with the finest quality and detailing.
Keeping in mind the weather and from Benaz's beautiful eyes, I was instantly inspired to whip up a monsoon inspired look. After prepping her face with moisturizer and primer and testing the perfect shade of liquid foundation on her jaw-line, I blended in some illumination crème into it and stippled it with a brush on her face; highlighted her cheeks with a soft cream blush and some incandescent illustration dust.
I decided to give her a slightly high-end 'au naturale' look inspired from a 'mid-summer night's dream' feel. Her eyes, though were lightly smoky with a deep purple, I left the inner corners bright and sparkling. After filling her natural brow line and slapping on a healthy coat of waterproof mascara and liner, Benaz truly looked transformed from the girl next door to a fairytale lass!
Benaz has beautiful, naturally, twirly hair. Avan and I decided to enhance her curls by scrunching them using some product and anti-frizz spray keeping in mind the humidity. After giving her a twisted and half parted hairdo, I added a touch of serenity with a few small white flowers to complete the look.
Obviously, we couldn't have captured this quaint yet fun look without Rehan's photography, which captured her radiating beauty from start to finish. After some awesome teamwork and creative juices flowing, I present to you my first PT Makeover of the Year. I hope you enjoy it as much as we enjoyed working on it. So keep sending in you images and let me know why you deserve a makeover… Maybe you could be in the next PT Makeover.

Latest posts by PT Reporter
(see all)