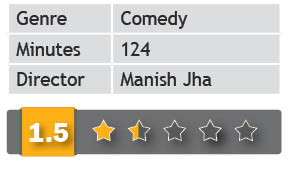 Accompanying Jason Bourne this week in losing his memory is Armin Salem (Rajeev Khandelwal) who meets with a car accident on a lonely road in picturesque Switzerland. Attending to him there is Dr. David Roy (Victor Banerjee) who asks him all the right questions but fails to ignite his memory. 'It's a brain injury,' the good doctor says, as if the viewer would have wondered whether a foot injury could have caused the amnesia. But that doesn't stop Armin from encountering a host of international beauties—Kaavya Choudhary (Gauhar Khan), Rhea Wagner (Gemma Atkinson) and Irina Caro (Caterino Murino).
While in hospital, and later too, the bed-hopping Armin catches sight of Kaavya, who promptly does the vanishing trick. When he does finally encounter her, he seems to get a bit of his memory back—he is a contract killer. Armin falls in love with Rhea, but when told of his profession, abhors him.
Fever is all about mangled relationships recalled under amnesia. The film is obviously intended for international audiences—the Italian ex-Bond girl Murino, the British Atkinson, the Swiss Ankita Makwana (who plays Grace Soni), the internationally acclaimed Victor Banerjee— and the film's locales, all in Switzerland. With a pot-pourri of characters, the film turns out to be a mish mash, notwithstanding the bevy of femme fatales in their sizzling bikinis and the liplocks.

Latest posts by Hoshang K. Katrak
(see all)