Xtremely Young Zoroastrians (XYZ) – the Community's leading organisation which has successfully been promoting camaraderie alongside learning life-skills amongst Zoroastrian youngsters through entertainment, learning and community service, held its inter-group event – 'XYZ LAFA – Literary Arts and Fine Arts Festival', on 9th July, 2023.
The event kicked off at 9:00 am with excited XYZ members gathered at the Bai B S Bengallee Girls High School, at Churchgate, with an inauguration session detailing the rules and schedule for the day. From 10:00 am to 4:00 pm, the youngsters were engaged in innumerable activities including picture colouring, painting without brushes (using lady-fingers instead!), making words from letters, reciting poems, making best from waste, rangoli stencil making, spelling bee, and more – exuding much confidence and having a fab fun time, overall!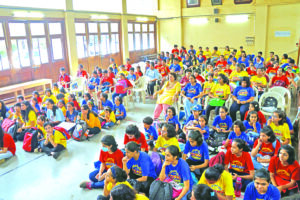 XYZ Seniors (or XIs) also participated in events like doodle with XYZ, capture a photo, word search and debates. Around 178 participants had a super time amid much healthy competition and dedication. A prize distribution ceremony celebrating the winners was held, with the overall LAFA 2023 trophy being won by the XYZ group – Jamshed's Giants – thus marking the conclusion of yet another excellent XYZ LAFA event!
Latest posts by PT Reporter
(see all)