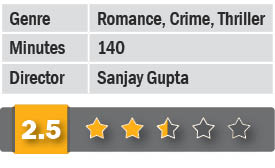 Director Sanjay Gupta has always shown a penchant for adapting, or taking inspiration from foreign films — his first directorial venture Aatish (1994) was based on the Hong Kong film 'A  Better Tomorrow' (1986). Eight years later he remade Tarantino's cult 'Reservoir Dogs' into the hugely successful 'Kaante'. Now comes 'Kaabil' — part 'Blind Fury' (1989) and part South Korean 'Broken' (2014).
It's love at first 'sight' for a blind couple — dubbing artiste Rohan Bhatnagar (Hrithik Roshan) and pianist Supriya Sharma (Yami Gautam), and it's not long before they marry. Trouble brews when local goon Amit (Ronit Roy) and his henchman Wasim set eyes on Rohan's beloved Su. And when she is raped by the two goons, Rohan receives a raw deal from senior cop Chaubey (Narendra Jha) and his junior (Girish Kulkarni), both on the payroll of local corporator Madhavrao Shellar (Ronit Roy) — seen throughout the film with just one escort — elder brother of Amit.  That is, till Rohan decides to take the 'andha kanoon' into his own hands.
Rohan's 'vishwas' and confidence, two attributes he's ingrained in himself to nullify his physical disability, stand him in good stead in his mission. Rajesh Roshan's 'Mon Amour' is evidently composed to showcase his nephew Hrithik's dancing prowess even though playing a visually challenged character.  Urvashi Rautela's item song, which has the composer rehashing his earlier hits 'saara zamaana' and 'dil kya kare' fails to impress. The first half lays the foundation for the protagonist to carry out his plan, even while staying one step ahead of the khaki-khadi unholy nexus.
Hrithik's barely veiled threats to Chaubey hold abundant promise to set up a thrilling second half.  But thanks to a loose script and convoluted fight sequences (in one scene his throat shows severe injury marks, but when Chaubey comes calling barely 24 hours later, there is not a blemish!), this promise fails to materialize.
It's Hrithik's vehicle all the way and, on his part, turns in a stellar performance, particularly in the first half. The Roy brothers are average while Yami Gautam, though pleasant looking, fails to match Hrithik's act as the visually impaired spouse. Girish Kulkarni as the corrupt cop, impresses. The sound design by Oscar award-winner Resul Pookutty and the cinematography by Sudeep Chatterjee and Ayanaka Bose deserve mention.

Latest posts by Hoshang K. Katrak
(see all)