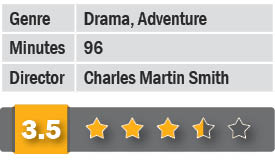 Just a tip: a couple – make that a handful – of tissues always come in handy when watching films on destitute quadrupeds. Based on the book by W Bruce Cameron, who's also written 'A Dog's Journey' (due out later this year) – the follow-up to his immensely successful 'A Dog's Purpose' (2017) – it tells the story of an adopted canine who travels 400 miles over two years to reunite with his master. A stranded female pup, raised by a cat after the former's mother is ruthlessly taken away, is found by a couple of teenagers who give her a home and name her Bella. But the local Denver laws, which prohibit any pit bull breed, cause the kids to pack away Bella to a relative in New Mexico from where our endearing canine braves innumerable challenges while returning to Denver.
Bella, played by the adorable Shelby (a rescued dog herself) and voiced by Bryce Dallas Howard, takes centre-stage in this tautly edited family fare. The others – Lucas (Jonah Hauer-King), who adopts Bella and brings her home as a companion to his distressed war-veteran mother Terri (Ashley Judd) and Olivia (Alexandra Shipp), Lucas's girlfriend, haven't much to do. It's a reasonably well-crafted film, especially when showing the physical challenges and heartaches encountered in the wilderness – foraging for food in the company of other dogs, the episodes with a baby cougar (some unworthy CGI) whom Bella names Big Kitten and takes under her wing while traversing through coyote and wolf infested territory, and the one with a couple of men (one presumes the short runtime prevented the writers from fleshing out their relationship) who try to reunite a pair of dogs with their 'owner'.
Director Smith astutely balances the tears and the cheers – by inserting an incident where an owner refuses to take back his pet. One wonders whether the film could have been more profound without the voice-over. Shot in Canada, the cinematography by Peter Menzies Jr. is praiseworthy, as is the background score by Mychael Danna and the couple of songs which help to enliven the mood of the film.

Latest posts by Hoshang K. Katrak
(see all)