Parsi Times Promotes Parsi Entrepreneurs
In addition to taking a huge toll on lives worldwide, the pandemic has also impacted livelihoods, with people having to cope with not just losing their loved ones but also their jobs, or then, struggling to make ends meet on reduced incomes. But turning adversity into opportunity is the bawa way of doing things… when trouble knocks, our resourceful Parsis turn into entrepreneurs! And that's exactly what happened through the last year and this one, where numerous self-motivated and dynamic community members decided to become entrepreneurs in their own right – starting small businesses from home – offering their services and products. 
Celebrating the spirit of entrepreneurship – the glorious bastion of our forefathers – Parsi Times is delighted to bring you 'Parsi-Preneurs', which aims at encouraging and promoting budding Parsi entrepreneurs heading small businesses, by sharing their efforts with you, in the hope of garnering your interest and support for their ventures. 
We are pleased to feature some of our spirited community members who shown their dynamism despite the disastrous impact of the pandemic. Their entrepreneurial spirit helped them navigate through these times and even created a new career path! If you would like to get your services/products featured in 'Parsi-Preneurs', mail us with details, at: editor@parsi-times.com 
(1) 'Spice Delight' by Avan Pollard and Shahnawaz Sasoori: When her husband, who ran an Uber service found himself grounded due to the lockdown, Avan Pollard decided to draw on her roots and get into the business of Organic, Natural spices, Pickles, Ready-to-cook Pastes and much more. Incidentally, her father had established the once popular Poonjiaji's Pickle brand. Encouraged by daughter Shahnavaz, Avan boasts of clients across Mumbai! Free Delivery offered Cuffe Parade to Haji Ali on orders over Rs. 500/-. [Call/Message: 9619198068 / 9819146857]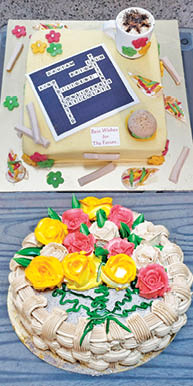 (2) A Yummy Range of Cakes And Pastries By Bomsi Tavaria's 'Bakes And Much Morr…'!: Colaba-based IT professional, Bomsi Tavaria decided to put to practice his passion for baking and turned it into an expertise that his clients can't seem to get enough of! What started out as a cake he made for his mum-in-law on her birthday, is today, a full-fledged home-based profession which provides a whole host of goodies including Fondant Cakes, Photo Cakes, Fruit Cakes, Bar Cakes, Cup-cakes, Brownies, Fudge, Chocolates, Swiss/Souffle Rolls, and an assortment of Veg / Non-veg Puffs. You can also call for Sariyas (plain, cheese and tomato flavored)! Home Delivery available.  [Call/Message: 9819885836
(3) Fresh Mutton Delivery Service By Merzi And Kaiwan: Godrej Baug based freelance international tour manager, Merzi Anklesaria lost all work prospects due to the pandemic. On friend Kaiwan Amrolia's suggestion, they started a Fresh Mutton Delivery Service, which has been steadily growing by word-of-mouth, in and outside Parsi colonies. Their excellent quality of fresh mutton ensures a loyal and regular client base. Free home delivery from Colaba to Dadar. [Call/Message: 8108293401] 
(4) Meherzad Gandhi Provides Niche Parsi Sweet And Dining Delicacies: A computer hardware professional, the pandemic and subsequent economic slowdown forced Meherzad to consider alternate modes of income. Residing in Mumbai's Jer Baug, Meherzad offers Parsi favourites including Bhakras, Dal-ni-pori, Badam pak and Tarapori patio, amongst a list of other dishes. His client base has increased manifold in keeping with the good quality and value for money that his products offer. Free delivery from Byculla to Parel. Delivery to other areas charged as per actuals depending on the courier or service used. [Call/Message: 9820177501] 
(5) 'The Gratitude Kitchen' – Dinners by Alice Contractor: After the pandemic rendered them both without jobs, Alice Contractor and her husband, who were associated with the travel industry, kicked off a Dinner-supplying venture, and designed a rotational menu which offers various cuisines. Their Continental fare receives rave reviews, as also burgers. They share a menu a couple of days in advance on their WhatsApp group for orders to be placed. They cater to regular dinners as also parties, for up to 50 people. They named their venture based on their sense of gratitude they feel towards their clients for their continuing support. [Call/Message: 9820280006 / 9004020544 / 9820163493]
(6) Snacks, Pastries And Masks By Kashmira Palia: While the pandemic affected everybody in different measure, tutor Kashmira, based in Shahpore (Surat), literally found herself homeless! In January, her home, which was in a dilapidated condition, was demolished. She and her husband were to use the money from their investments to rebuild it but with the lockdown, everything came to a standstill. The income she earned from giving tuitions stopped, as parents weren't keen on on-line classes. But a kind friend offered her rent-free accommodation and Kashmira put to use her flair for cooking, starting her home-based food business. She sells delectable Cupcakes, Doughnuts, Puffs, Chocolates, Sandwiches and Cakes – on a made-to-order basis. She even makes beautifully embroidered, stylish 3-ply Masks to flaunt in the pandemic! [Call/Message: 9825859757 / 0261-24328259]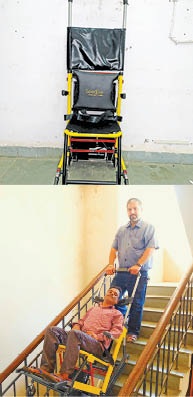 (7) Jamshed Dalal's 'Seedee Service'- Special Wheelchairs For Climbing Stairs!: Several Parsi Baugs do not have lifts, posing a major problem for the elderly, who are unable to climb stairs. This problem worsened during the lockdown, when most domestic helps/ caretakers of seniors, were unable to come to work. Jamshed Dalal produces Special Wheelchairs which can be used to safely ascend and descend chairs. This service has been much appreciated especially through the pandemic, where the elderly can avail the same whenever needed, easily traversing steps that are as high as one foot. He provides this service pan-Mumbai. Wheelchairs are also available for sale. Jamshed provides training on how to use the chair, along with a 1-year warranty. A boon indeed for the elderly, who would otherwise be house-bound! [Call/Message: 9890149666]
(8) 'Tongue Ticklers' By Kaynaz: Continuing in the footsteps of her mother and grandmother, Kaynaz Ghista's passion for cooking Parsi cuisine has her offering delicious Kebabs, Farchas, Sandwiches and Rolls – made to order. She also makes hummus and mayonnaise marketed under 'Vills' brand, in flavours including roasted red chilli garlic, thousand island and herb mayo. Delivery is via courier. [Call/Message: 9819402771 / 9821410094]
(9) 'Kitchen Wings' – Meats And Cuts by Shehzzarin And Phirroza: An association with the hospitality business spanning 22 years stood Shehzzarin in good stead when she decided to get into the business of delivery of chicken, lamb, pork, bacon and several other products during the lockdown. Kitchen Wings' products boast of high quality, taste and hygiene. Free delivery offered between Malcolm Baug and Cusrow Baug. [Call/Message: 9820253292]

Latest posts by Razvin Namdarian
(see all)