A PT Special Issue wouldn't be special enough if it missed representing the two indispensable elements synonymous to our Community – our irrevocable love for bikes and our unparalleled prowess in the medical fraternity. Symbolising the best of both worlds, Parsi Times catches up with the globally renowned, leading Indian Ophthalmologist and ardent bike-lover and professional biker – our very own Dr. Cyres Mehta!
.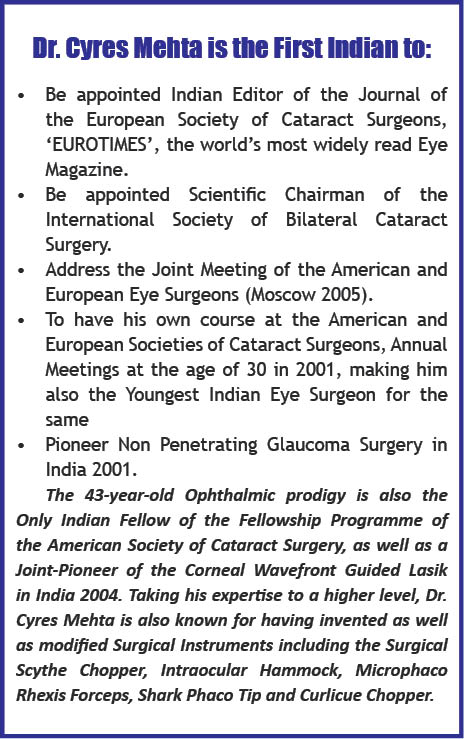 The recipient of numerous awards, including the 'Parsi Ratna' and the gold medal of the Indian Cataract and Laser Society, Dr. Cyres Mehta is equally safe-and-swift on his super bikes, as he is while performing surgeries – globally famed as one of the fastest cataract and laser surgeons known to perform a cataract operation, from start to finish, in under 5 minutes!!
PT: Did you always nurture a love for medicine and bikes even as a child? Tell us about the beginnings…
Dr. Cyres: Ever since I can remember, maybe even since the third grade, I always wanted to be an eye surgeon. Perhaps having a very successful father in the same field was motivation enough. My grandfather, the late RC Mehta, who motivated both his sons to join the medical profession, would always say I was his "hat trick" – with three doctors! I was more like his third son than a grandchild. Left to myself, I think I probably would've ended up as a race car driver! In the pre-internet days after doing a lot of research I located a 'Racing Academy' in Silverstone, UK. At the time (1989), they were charging Rs. 2 Crores for a year's course. I took this proposal to dad, who, not too enthused by my driving antics, ended the matter with, "boot polish karse!?!" (laughs) Who knows, I might've ended up like Vettel!
PT: Tell us about your love for bikes and other hobbies?
Dr. Cyres: Well, I played the harmonica for years and tried my hand at other musical instruments too – like the Mandolin and the keyboard. But then bikes took over my fancy, and my enthusiasm and love for bikes landed me as a Triple Graduate from The California Superbike School!
PT: How do you share your time between both your passions – Medicine and Bikes
Dr. Cyres: Medicine takes up most of my day, honestly there's not much time to do anything else in the week, but on Sundays I try to spend time with my bike and go for a ride. As far as work goes, I'm always on the lookout for new technology – with the new robotic cataract system, we can safely melt the hardest cataracts in under 40 seconds! In the field of Glaucoma, we have the first nano-laser to control Glaucoma; in the field of Laser Vision correction, we do a new generation flapless, bladeless surgery called Relex SMILE. I believe disease is conquered through advancements in technology. Remember that 'sufficiently advanced technology is indistinguishable from magic!'
PT: Tell us about your other commitments. How do you balance the work-life equation, in keeping with your super busy schedule?
Dr. Cyres: Yes, it gets extremely hectic but I ensure to keep up with some of my staunch commitments – I take out time to be with family on the weekends. My two boys, study at my alma mater, Campion School and I try to be with them as much as possible. Weekends with family gets to be fun because luckily all of them have a passion for cars! Balancing the work-life equation is crucial to your happiness and well-being – else it takes away from a holistic existence. A lot of people say they would like to pursue some hobby or the other but they just don't have the time! Truth is you always have time, if something is important enough for you. Time management is the essence of success. You always have time for the things you like to do. Remember, when it's time to go and when you reflect on your life, you won't remember how much money you made, which car you drove or how big your house was. The biggest regrets you will have is that you never spent enough time with your family. So, make the time and spend it with those who matter the most!
PT: As one of our most respected community luminaries, what message would you like to share with our readers?
Dr. Cyres: Our Parsi/Irani Community desperately needs greater numbers and we also need to assert our 'Minority Status' so that we can access higher education in Medicine, Engineering and the Civil Services. The concerned people in power should focus on this and prioritize their efforts towards this end. Earlier, we used to have Reserved Seats in various Medical and Engineering Colleges and Universities which we gave up. We should regain those to break out of the current bleak situation.
Latest posts by PT Reporter
(see all)