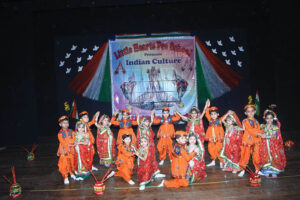 2023, at The Mumbai Marathi Sahitya Sangh Auditorium. Over 140 tots from the school, aged between two to five years, showcased their talents towards the theme: 'Indian Culture – Unity In Diversity', to a much elated jam-packed audience comprising parents, families and friends.
Host and senior teacher, Binaifer Kandawalla, gave the welcome note, emphasising that the concert was not a competition, but an effort displayed by the children, with the aim of discovering their talents and nurturing their confidence. The show proved to be a hit with the audience, showing the hard work put in by the children, who wonderfully presented various aspects of India's rich and varied culture, through dances and acts, depicting India's  festivals, traditional dance forms, importance of family and Indian values. The highlights were the 'Nagaada Dance' and 'The History of India' play, which portrayed India's glory before the British rule and India's struggle for Independence. All performances received great applause.
The Principal, Dr. Meher Munshi, said, "Ever since the opening of the school in 1999, the students have benefitted from the learning and values imparted by this Institution, thus providing a platform for standing in good stead in their future lives."
The concert ended with the rendition of the national anthem. As the National Anthem was sung, all present saluted the Indian Culture, so true to Little Hearts theme this year.  With a dynamic Principal at the helm and a good number of teachers being Parsi, Little Hearts Preschool is all set to celebrate its Silver Anniversary in June this year.
Latest posts by PT Reporter
(see all)