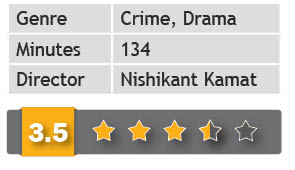 The intense chemistry between Nirmal Kumar (Irrfan Khan) and young lad Rohan Goswami (Vishesh Bansal) paves the way for a – not exactly thrilling, but – fascinating film. Nirmal ingeniously kidnaps Rohan, the son of the Home Minister and demands to identify the perpetrators of the man-made calamity which snuffed out the life of his seven-year-old son Apoorva.
Director Nishikant Verma, after directing thrillers and action flicks, tries his hand at a crime drama with socio-political overtones – shades of 'A Wednesday' looming in the background.
As authorities are left clueless, top cop Nachiket Verma (Jimmy Shergill) manages to trace the elusive kidnapper who has forged an unusual bond with the boy. It is not so much a thriller as the power-packed performances of Irrfan and the young Vishesh Bansal that keeps the viewers glued to their seats. Neither is the premise unusual. The first half is taut, while the second half is 14 minutes too long. Nirmal Kumar's unusual method of seeking retribution keeps him a couple of paces ahead of the
law.
The film is worth watching for a couple of scenes — the young lad nonchalantly asking his kidnapper to sleep on a different bed and later when he discusses the Stockholm Syndrome with his abductor, where captor and victim begin to share an emotional bond..

Latest posts by Hoshang K. Katrak
(see all)