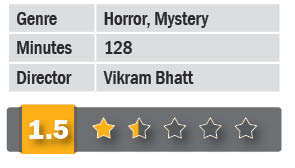 In 'Raaz Reboot' we are shown a couple Shaina (Kriti Kharbanda) and Rehaan (Gaurav Arora) in Romania, in Dracula's homeland Transylvania to be precise — an extremely noble gesture on the part of the filmmakers to forewarn us! Rehaan has chucked a job in India, one through which he could buy a house within three years! And after relocating to Romania, the company gives him an opulent mansion with bedrooms the size of football fields. And there is 'a liquidity crunch' in Romania, we are told. Whether the company's generous gesture is despite, or because of the crunch, is not clear to the viewer.
And Raaz is, or has, secrets — a murder and Aditya (Emraan Hashmi), the X-factor. He was, apparently, Shaina's ex-boyfriend. And now, to the crux of the story — strange and eerie goings-on take place in the mansion, 'psychometrics' are consulted, and yes, a gypsy tarot-card reader too is visited. And this being the last of the Raaz franchise, the case is supposedly so scary for the gypsy woman that she even returns Shaina her money! Just one song 'Lo maan liya humne' is appealing — a far cry from the 2002 Raaz which had some excellent music by the Bhatts' favourite duo Nadeem-Shravan. The wintry locales of Romania, shot by Manoj Soni, are eye-catching.
No harm in watching RR in case you want to know what horror films were all about 40 years back — read: The Exorcist and The Omen, and they are not easily accessible now. Produced by the Bhatts and T-Series, filmed in Romania and conceived God knows where, Raaz Reboot is a compendium of knowledge — a sort of "What you always wanted to know about… but didn't know where to look". You'll find yourself looking for it under the bed, behind walls, in the vast openness of Romanian forests, and of course, being an Emraan Hashmi film, between the bedsheets!

Latest posts by Hoshang K. Katrak
(see all)