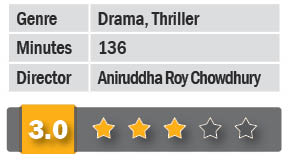 'Pink', as the title suggests, denotes femininity and the film is all about feminism – women's rights, social mores etc. in a country where a girl's character is decided by her dress and the time she returns home at night. Fine-tuning the legal system in India is no easy task for a defence attorney up against some highly 'connected' people, especially if that attorney is coming out of retirement and happens to have a bipolar disorder.
'Pink' has three working girls Minal Arora (Taapsee Pannu), Falak Ali (Kirti Kulhari) and Andrea (Andrea Tarang) sharing an apartment in a posh locality in Delhi. At a dinner with three boys, things go horribly out of control when, after a couple of drinks, the boys take the girls' 'NO' as acceptance, and in self-defence Minal lashes out at one of the boys Rajveer (Angad Bedi) with a bottle. Even as he is taken to hospital with a deep gash above his eye, the girls flee. Persistent harassment in various ways compel the girls to file an FIR, despite the overt dissuasion by the police. A counter-complaint of assault amounting to murder is filed by Rajveer, the nephew of a Delhi politician.
In steps Deepak Sehgal (Amitabh Bachchan), whose balcony overlooks the girls' house, and who's a silent witness to a sordid incident involving Minal. 'Pink' attempts a collective commentary on the evils plaguing women at all social levels; especially at work places. Choudhary eschews showing the altercation which led to the court case – till the end credits.
There are some exceptional performances – by Amitabh Bachchan as the lawyer who recaptures his sharp courtroom skills and discusses the girls' "safety manual", Piyush Mishra as the prosecuting attorney who questions the morals of the three girls, Taapsee Pannu as the victim of molestation and who's interrogated by her own lawyer on her 'virginity' and 'promiscuity', Kirti Kulhari, who as the protective roommate is made to break down in court and Dhritiman Chaterjee as the dispassionate judge.
A well–written story by Ritesh Shah – 'boys need to be saved from (read: educated) girls who smoke, drink and wear shorts, jeans', complemented by an apt and unobtrusive background score by Shantanu Moitra make 'Pink' a compelling film. AB's mask in densely polluted Delhi looks grotesque and the film, at times, veers on the dramatic, but still, it is worth a watch
Latest posts by PT Reporter
(see all)