We are right in the lap of celebration and festivities and when it comes to making merry and enjoying, Bawas take the cake hands down! Especially with our weddings, which are becoming increasingly elaborate and personalized every year! I love the glitter and party, but I believe in personal touch and personalized attention, which guarantees grace and elegance. Such was our pick of the bridal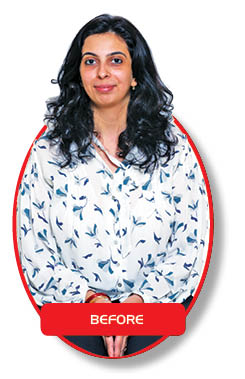 season, Fernaz Sherdiwala – who is set to tie the knot in February next year. A doctor by profession, she barely gets any time off from her practice. The perfect girl next door, Fernaz knows that all eyes are going to be on her on her big day. We feel you Fernaz! That's where we step in.
I decided to give Fernaz a feel of how she is going to look on her big day. I started with prepping her face with a deep conditioning moisturizer, massaging and layering it in with my favorite bride glow primer, thereby giving her that radiant feel. After concealing and founding her face, I sculpted her face and accentuated her highlights. A dash of HD blush completely transformed her skin. Parsi and Iranian brides are all about class and being demure, so I chose to go with a neutral – gold shadow with an outset contour of copper-brown. A thin liner stroke pulled out on the outer corners of the upper eyelid, accompanied with a set of false lashes; and Bingo! The girl next door turned into a princess!
My fabulous hairstylist from the 'Makeover Salon' helped me design and create a messy side section into which I added some pearl flowers. Sanaea finished the look with a blend of long lasting lipstick shades and rubbed in some gloss to create a natural pout. The look came together after draping a beautiful chikan work sari from Alpa & Reena's bridal collection. The sari had a hand work border in pearl and gold but the highlight was the fully hand embroidered blouse in gold threads and pearls.
Fernaz looked gorgeous. It was a perfect dress rehearsal of what she was going to look like on the most important day of her life. But I know she is going to be even better and even more radiant on the day itself. Guess it's a brides glow that we can't create…it comes that one day when you shine brightest!
CREDITS
Make-up Assistant: Sanaea Tirandazi (Contact on: 9820392692)

Photography: Ketan Mehta (Contact on: 9820186673 or mail at ketanmehta77@gmail.com)

Hair Assistant: Neelam from Maharukh Jokhi's 'Make Over Salon' (Contact on: 9821064466)

Studio: Bazyan Mistry's 'Talisman Studios and Banquets' (Contact on: 9821349283)

Styling and Outfit Designer: Alpa and Reena (Contact on: 022 24174183 or mail at info@alpareena.com)
Latest posts by Arshis Javeri
(see all)