Cook up a delectable meal for the family and loved ones this Jamshedi Navroz!
Mutton And Egg Pulav 
Ingredients:
½ kg boneless Mutton; 375 gms Basmati  Rice; 2-3 tbsp. Ginger Garlic Paste; 2 large Onions finely chopped; 2 large Kashmiri Dry Red Chili; 4-5 Green Chilli finely chopped; 2 tsp. Cumin Powder; ½ tsp. Turmeric Powder; 1½ tsp. Red Chili Powder; 2 tsp. Dhanajeera Powder; 1 tsp. Chicken Masala; 2 tsp. Dhansaak Masala; 3-5 Tomatoes pureed; 2-3 Potatoes halved; a fistful Coriander leaves; Salt to taste; a pinch of Saffron; 4 boiled Eggs; 2 large Onions thinly sliced.
Method:
Heat oil in a pressure cooker and add the ginger garlic paste, onions, Kashmiri red chilies and green chilies. Fry them till fragrant. Add the tomato puree and the coriander leaves and cook for a few minutes. Add all the powdered masalas and salt and cook for five minutes. Add the mutton, and stir to coat with the masala and brown for a few minutes. When nice and brown, add a little water till the mutton is covered. Add a couple of halved potatoes. Close the lid of the pressure cooker and cook on medium heat and pressure cook for 30 minutes. Meanwhile, parboil the rice in a wide kadhai. Add the cooked mutton and spice mix to the rice and stir it all together. Dissolve the saffron in a small bowl of water and pour over the top of the rice, cover the kadhai and simmer till the rice is cooked. Keep adding little water if needed. While the rice cooks, go ahead and brown the two thinly sliced onions to use as a garnish. Garnish the mutton pulav with boiled eggs, fried onions and chopped coriander.
.

Burani Raita
Ingredients:
1 cup Yogurt; 8-10 cloves Garlic ground; 1 tsp. Black Salt (Kala Namak); Salt to taste; ½ tsp. Red Chilli Powder; 1/4 cup Milk; 1 tsp. Cumin Powder.
Method:
Whisk together garlic, black salt, salt, chilli powder and yogurt in a deep bowl till well blended. Add the milk and mix. Spread a muslin cloth over another deep bowl, pour the raita over the cloth, gather the edges and squeeze to get a smooth raita. You can add chopped onions, cucumber and tomatoes if you'd like.
Dessert: Fruit And Custard Trifle 
Ingredients:
200 gms White Sponge Cake (readymade); 1 small packet Strawberry or Rose Flavour Jelly; chopped Fruits (Any fruit of your choice); 2-3 tbsp. Sugar Syrup; 2 tbsp. Custard Powder; 2 cups Milk; 4 tbsp. Sugar; Whipped Cream; chopped Nuts for garnish.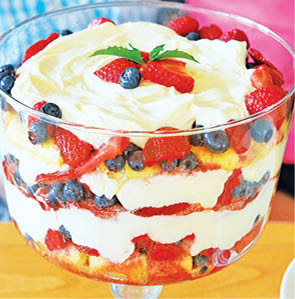 Method:
Boil 1/4 cup of water with 2 tbsp. of sugar for a few minutes. Leave the syrup to cool. For making Custard, boil milk. Mix 2 tbsp. of custard powder with 2-3 tbsp. of warm milk and make a paste. Once the milk boils, reduce the heat to low and add the custard paste to the milk slowly stirring continuously. After it becomes a little thick, remove from flame, cool and refrigerate. Add fruits of your choice – pineapple, apple, mangoes, strawberry, seedless grapes, etc. – but avoid using bananas and oranges as it makes the trifle soggy. Cut fruits into small pieces and keep aside. To prevent apples from discoloration, keep cut pieces in a cup of water to which a few drops of lemon juice is added. For jelly, choose raspberry or strawberry flavour as it makes the trifle attractive and colorful. Prepare the jelly as per instructions on the pack. After it cools, pour it in a tray and refrigerate it for it to set. Do not keep it in the freezer. Now take a wide glass bowl or a tall glass. Cut the sponge cake horizontally and arrange the bottom layer with pieces of cake and sprinkle sugar syrup on it. Press it well. Now pour the cold custard on top of it and spread it evenly. Then spread the chopped fruits. Then slice jelly and cover the fruits layer. Finally a layer of whipped cream and nuts. Repeat this process till you fill your bowl or glass. Let it set in the fridge for 4-5 hours.
Latest posts by Bezad Dadachanji
(see all)