Sweet And Sour Chicken With Egg Noodles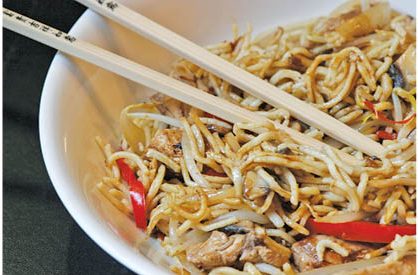 Ingredients:
4-6 Chicken Thighs; 2 tbsp. Chinese Five Spice Powder; Olive Oil; 1 no fresh Red Chilli; small piece Ginger; 1 bunch of Spring Onions; 4 Cloves of Garlic; 2 tbsp. Honey; 6 Ripe Plums (optional); 6 tbsp. Rice Wine Vinegar; 2 tbsp. Light Soya Sauce; Sesame Oil; 200 gms Noodles; 100 gms Peas; 100 gms Spinach; 1 Jasmine Tea Bag; 1 Lime.
Method:
Put the chicken and five-spice in a large bowl, drizzle with olive oil and toss together. Heat a drizzle of oil in a large pan over a medium heat, then add the chicken and cook for 5 minutes, then throw in the whole chilli. Peel and add the ginger, trim and add 4 spring onions, along with the unpeeled garlic cloves. Drizzle over the honey and fry until dark, golden and sticky. Add the whole plums, vinegar, soy and a little sesame oil to stop everything from sticking. Put the lid on, reduce the heat and let it cook slowly for 20 to 30 minutes, or until the chicken is cooked through and tender. Remove the lid and allow the liquid to reduce and get sticky. On a board, chop up the plums and garlic (discarding the stones and skin), the chilli and remaining spring onions, mixing to create a kind of chopped salad. Discard the ginger, then scrape it all back into the pan with the chicken. Place the noodles, snap peas, spinach and tea bag in a pan and cover with boiling water. Bring to the boil and simmer for 3 minutes then discard the tea bag. Use a slotted spoon to transfer the noodles and veg to the pan with the chicken. Use a little cooking liquid to loosen the sauce, and then toss it all together. Serve with wedges of lime for squeezing over.
.
.

Almond And Saffron Thandai
Ingredients:
1½  litres Full Cream Milk; 25pcs approx. Almonds blanched and peeled; 20 Cashew nuts soaked; 30 Pistachios blanched and peeled; 3 tbsp. Melon seeds (Magaz) soaked; 3 tbsp. Poppy seeds (Khuskhus/Posto) soaked; Saffron (Kesar) a few strands; 1½ cups Sugar; 8-10 Green Cardamoms; 20-25 Dried Rose Petals; 1 inch stick Cinnamon; 8-10 Black Peppercorns.
Method:
Grind together almonds, cashewnuts, pistachios, melon seeds and poppy seeds with a little milk to a fine paste. Bring milk to a boil in a pan. Add saffron and mix. When the milk begins to boil add sugar and simmer till the sugar melts. Grind green cardamoms, dried rose petals, cinnamon and black peppercorns to a fine powder. Add the paste to the milk and mix well. Simmer for three to four minutes. Add the powdered masala to the milk and mix well. Chill the milk and serve.
Latest posts by Bezad Dadachanji
(see all)