Zagreb
Zagreb is the capital and the largest city of Croatia. It is young and playful at heart, despite the almost thousand year-old history of its old town. Though it is a Central European city in geography, culture and baroque architecture, in many ways, Zagreb has a Mediterranean way of life. Thanks to its many influences, the city has a special charm and hospitable feel generated by its open-hearted people. Many say that nothing compares to this city!
Zagreb is place to experience the Christmas Market! It is not a small feat to win the best Christmas market for three successive years – but Zagreb wins this prestigious title as every inch of the city is covered with elaborate decorations, market stalls, and open-air entertainment. The latter seems to be the winning factor; while all European destinations with Christmas fairs can muster a certain Christmas spirit, few match up to Zagreb's recently revamped program with live music or DJ sets every day.
The Christmas Fair in Bogovićeva street you can find not only wooden cabins where fritule and sweet almonds, and mulled wine, are being made, but also those that hide beautiful handmade souvenirs, scarfs and gloves. The wooden houses abounding in handcrafted souvenirs and Christmas gifts and decorations are interwoven with those exuding the scent of cooked sausages, roasted chestnuts, pastries and cakes, as well as mulled wine. For the most breathtaking Christmas Fair atmosphere, just wait until nightfall, when all the handicrafts will be illuminated by the soft glow of Christmas lights.
The cosmopolitan buzz of Zagreb is infectious! Everything is accessible on foot – from your hotel to the theatre, wandering around the old Upper Town or through the bustling streets of the more modern Lower Town, which has not lost an ounce of its charm despite the eternal march of time. Zagreb nightlife is unmatched owing to the range of regular live music on offer – and for the sheer number of venues to stage it. Zagreb is also known for its music bars – places such as SPUNK transform into small clubs as the night wears on, with occasional live acts too.
There are more than 20 events happening in the city. I give you my selected 6 best:
The Ice Park: Taking place at king Tomislav Square (Zagreb's main railway station). The entire park is turned into a big ice skating rink featuring many events such as the ice ballet. Around the ice park there are many vendors selling traditional Christmas decorations, mulled wine, sweets and so on
Zrinjevac Square: A few hundred meters away is where Zrinjevac square hosts its own fairytale.  Every single tree in the park is decorated with Christmas lights that make for a magical experience. At Zrinjevac you can enjoy in traditional meals such as strudels, strukli, pasta with cabbage and so on. Many boutiques sell uniquely handmade souvenirs that are perfect as Christmas gifts. The central pavilion is a place where all the shows take place, from children's plays to classical and traditional concerts.
Fuliranje: or 'fooling around' was one of the first and after five years it still is the most original Christmas festivity. There are 2 streets alongside each other. Just fool around, and you will feel as if you were on a trip around the world – shops and caterers from all over the world will undoubtedly succeed in bringing you into this mood by ticling your palates. This street is called the Chef's street. The other street is the Disco Street which has an array of pubs and nightclubs.
Zagreb's Tunnel: The tunnel has been redesigned with lights displays that change the colour of its concrete walls and transform the tunnel into a magical place, deep in the silver fir forest surrounded by ice blocks. A projector will transform the central section of the tunnel into a series of images typical for a Christmas atmosphere, with snow topped forests and icy lakes…this place is sheer magic and loved by children and adults alike.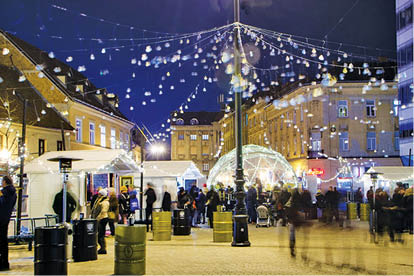 European Square: Look no further! The European Square pedestrian zone, situated in the very heart of the city, becomes a favorite meeting place for young people during the Christmas season. A rich offer of concerts, attractions and exhibitions – on par with other European cities – makes this place a must-see location for all those looking for a good time.
Plitvice National park – Zadar: You always thought Switzerland was heaven on earth, but I was mesmerized with the the amazing Plitvice Lakes National Park (World UNESCO Heritage site) in winter.  Plitvice Lakes is a specific geological and hydrogeological phenomenon of karst, with 16 bigger and few smaller lakes, gradually lined up, separated by barriers.  The cascading waterfalls, aquamarine virgin lakes surrounded by dense, thick forests have frozen at this time of the year. It is the most beautiful sight to behold. Plitvice Lakes are a natural phenomenon of a rare and unique beauty. Feast your eyes on one of the most beautiful places in the world!
Latest posts by PT Reporter
(see all)