Over the past few months, there has been a copious amount of misinformation spread in the community, with digital newsletters spreading lies, which get forwarded without verification, thereby abusing the use of social media, by misrepresenting facts and proliferating falsehoods to create and sustain public confusion in the community.
A constant target of these attacks has been BPP Trustee Kersi Randeria, as also the functioning of the BPP Trust itself. Unfortunately, the incessant weekly barrage of slander and baseless accusations leads to the undermining of the faith that community members have reposed in its leaders and the Trust.
Trustee Kersi Randeria, as well as Parsi Times, has received a number of calls and messages from community members who have expressed solidarity and support, against the ongoing propaganda and falsities, and have requested him to take these unfounded allegations head on and counter this onslaught of distorted facts that vested interests have been pushing.
Known among fellow Trustees and the community, to be one of the most hands-on, action-based and more importantly, one of the most available Trustees for all our humdins in need, BPP Trustee Kersi Randeria has agreed to resolve some of the following, most asked queries from community members…
Query: Why is it that suddenly you have become the focal point of attack in the newsletter Parsi Junction, and through it, social media messages written and forwarded by a couple of people?
Kersi Randeria: I believe there are a couple of reasons for this – it started with Dinshaw Mehta wanting to damage my reputation, in keeping with the politician that he is and his political ambitions which refuse to cease, unlike his tenure! With the new elections just two years away, he has started all his usual activities as a build up to the elections. He seems afraid and rather worried I will choose to stand again for the elections, and given my record over my tenure as a Trustee, he fears that if I am chosen again by our community in the 2022 elections, that would make me a contender for the position of the next Chairman – assuming that current Chairman Yazdi Desai, chooses not to re-contest. The Chairmanship, would therefore lie between Viraf Mehta and me, with my colleague Noshir Dadrawala, having clearly announced his unwillingness to re-contest.
Dinshaw Mehta is worried that if I get more votes than Viraf, I could end up being the next Chairman of the BPP – a thought that never even struck me till Dinshaw Mehta himself shared this nugget of information with me! Which is why, I believe, he is finding ways and means to attack me and discredit my reputation, so as to mislead our community members, who serve as the electorate in his games.
Query: Is that the only reason?
Kersi Randeria: No, that is how it started. However, the fact that Parsi Times recently broke the news of Dinshaw Mehta being Charge-sheeted, has also angered him tremendously and he holds me and the newspaper responsible for what has been nothing but reporting of the news!
He has forgotten, or maybe chooses to ignore, the basic ingredient attached to this Charge-sheet. Dinshaw Mehta has now publicly admitted that he gave money to bribe a High Court judge to influence a favourable verdict – such a brazen admission, I'm sure will lead to some judicial action or consequence, either by the police or the judiciary, sooner or later.
What he also chooses to ignore is that it was Dinshaw Metha himself, who allegedly took home the Rs. 25 lakhs in cash – funds that belonged to the BPP Trust – at a time when he held the highest position in the Trust, that of the Chairman! Here, it is also important to note that it was his own colleagues then, who had filed a complaint and an FIR against him, which has now progressed into a full-fledged Charge-sheet.
Dinshaw Mehta has been charged under section 406 (Breach of Trust) and 420 (Cheating). It is this embarrassing revelation of the truth which has forced him to try and divert the attention of the community from his misdeeds. It's an old tactic called 'throwing stones to hide your hands'… even so, the truth always reigns supreme. It's just a matter of time…
Query: Are you saying that the Jagdale issue has been raked up because of the above? For the understanding of the community, what are the facts pertaining to this issue?
Kersi Randeria: Dinshaw Mehta has been Charge-sheeted for illegally taking cash that belonged to the BPP Trust and then covering up this transgression by returning the cash taken from Musharraf, in lieu of cheques from him. As mentioned earlier, in response to this, he is trying to liken his wrongdoing by sensationalising the case of a certain Jagdale, where there are absolutely no illegal cash activities involved!
It is a simple transaction of Rs. 30 lakhs given to my company by Jagdale. From the day the amounts have been received, to date, the said amounts have appeared in my accounting books and in my IT Returns as well, and thus, no one can accuse me of any form of legal impropriety.
However, the reasons why these amounts were deposited with us and more so, why Jagdale never raised an issue for the past five years, itself provides an answer to the discerning mind. The facts are being investigated by the police and I would prefer to wait for the investigation to be completed before I share any of the details, as I am expected to do, legally.
But, for the record, I would like to say that certain vested interests, who have a property dispute with me, are behind Jagdale's new-found allegations, and sadly, people like Dinshaw Mehta who, to cover up their own misdeeds and divert attention from their illegal activities, are triggering and facilitating people like Jagdale to run amok… twisting facts, writing blatant lies and working with Dinshaw Mehta, using Parsi Junction and the social media to make allegations where none would stand!
Let me reiterate, that Jagdale has deposited Rs. 30 lakhs with the company, which neither the company nor I have ever denied! How this can be compared to Dinshaw Mehta wrongly taking home Rs. 25 lakhs cash – that belonged to the BPP Trust – is inconceivable!
Query: There have been references to an attempt at peace but in keeping with last week's issue of PJ. That looks to have failed. Pls explain its details.
Kersi Randeria: This was an attempt by three well-meaning people to broker peace – I would have preferred to honour the confidentiality of this much-appreciated effort, but since details are already being shared on social media in bits and parts, mainly on WhatsApp groups, there is no point in keeping silent.
A few weeks ago, Mr. Berjis Desai, Mr. Dinshaw Tamboy and my colleague Noshir Dadrawala put their heads, hearts and minds together to try and broker peace between Dinshaw Mehta and me. Around the end of last month – October, these three genuine well-wishers of the community called upon both Dinshaw and me, to cease and desist from publicly attacking each other and requested, that in the interest and the image of the community, some middle ground be found.
The three gentlemen first met with Dinshaw on Saturday, 31st October, without my presence, to elicit his views about this ceasefire. After their meeting, I received a call from Noshir Dadrawala, asking if I would meet the three of them as Dinshaw had left and they would like to discuss and obtain my view.
On meeting them, I started by informing them that Parsi Times had never been used as a tool by me or anyone else to make personal attacks based on lies and false allegations as Parsi Junction is known for consistently doing, with zero consideration for the truth.
I was informed that Dinshaw had agreed to a truce but on one condition – he wanted that I not just immediately resign from the BPP as a Trustee, but that I also agree to not contest in BPP's 2022 elections, adding I could contest in 2029, if I so desired.
Even as I was laughing at the absurdity of his condition, they told me that they asked Dinshaw whether he would be agreeable to Viraf Mehta also stepping down and resigning as a Trustee, as I was expected to do! I then told the three gentlemen that this was just Dinshaw being worried about my winning the 2022 elections, if I chose to stand, and maybe becoming the Chairman of the Board.
However, after a more detailed discussion, a proposal emerged, where the entire Board would step down immediately and those who were keen to continue would offer themselves for re-elections.
I was informed that Dinshaw Mehta was not at all keen on this proposal, probably because the slim majority that he seemingly holds in the Board today, would disappear, and that is something he would definitely not want.
Even so, it is relevant to note, that on the weekends of 31st October and 1st November, both sides agreed and desisted from attacking each other in the print/digital media. However, Dinshaw Mehta, being the master manipulator, got his favourite crony – Amroliwalla – to send out an e-mail against me, ranting and raving, as is his norm. In the week following the first weekend of peace, on a couple of occasions, Dinshaw sent out messages to the group, expressing his keenness to withdraw from the peace process. But better sense prevailed and the second weekend was peaceful.
In the week that followed, another e-mail attacking me was put forward by the Mehta camp, which again I chose to ignore and for the third consecutive Saturday, I maintained my peace.
But maybe this got to being a bit too peaceful for Dinshaw Mehta, who unfortunately, chose to re-start attacking me the next day, putting an end to this peace process, with Parsi Junction putting out the usual nonsense again in its 15th November issue. This resulted in Mr. Tamboly walking out of the WhatsApp group the next day, recording his disappointment and hoping that wiser counsel prevails
Over the last week, my Trustee colleague Noshir Dadrawala made public some of these details and expressed his desire and keenness to see if peace could yet again be found.
Query: How do you feel about all of this?
Kersi Randeria: Even as these constant attacks appear to be the only thing that the like of Amroliwallas and Mehtas can do, I have chosen to focus on continuing my efforts and working for the community. And, this may seem surprising, but I do not read Parsi Junction at all. It is only through friends and supporters that I even get some inkling of what these degenerates are up to!
Amroliwalla is delighted to have found a ready platform in Parsi Junction where he loves to write the most absurd lies about me, simply because I publicly declared that he has to pay up the amount due to the BPP Trust and that he should not be permitted to profit from the Trust by selling Trust houses! Also, he has illegally combined two adjoining flats without the knowledge or getting the due permission of the trust, for which legal action will be taken.
But his insignificance does not decrease based on his 2-minute, Sunday spotlight, in a publication known for its rabid content. And speaking of rabid, I'm reminded of the 'Mad Dog Barking' anecdote, when I was once walking on the streets of Mahim and a mad dog started barking at me. Trying to hush it down or placate it only resulted in the mad dog barking even louder, and so, like any sensible person, I walked on and away from the mad dog. However, as is the norm with the poor, crazed animal, he still kept barking, and even though I had walked away much ahead, I could hear his fading barks… At this point, I would like to share a disclaimer with community members who may have read between the lines… any resemblance to actual persons, living or dead or actual events is purely coincidental!
However, the number of messages and calls I receive on a regular basis from community members, not only encourage me to keep going but also greatly strengthen my resolve, and re-instil my commitment to continue serving the community.
I'd like to share an event that stood out – where a very senior officer from Godrej forwarded me a copy of Parsi Junction. In reply, I sent him my old article which was titled, 'The Virus Within'. What really made me happy was his response to me saying, "Proud of you. Clean up the PP!" This message and many such others is what keeps me going. I am quite certain about what I've been saying over the years… ultimately, the truth will prevail.
Query: Will the 'Dinshaw Mehta V/s Kersi Randeria' issue ever get resolved? Why doesn't Dinshaw Mehta stop interfering with the working of the BPP despite the end of his tenure? Doesn't he see how this hurts the standing of his own son Viraf Mehta, as a Trustee?
Kersi Randeria: As far as I'm concerned, I have been and I am more than willing to give peace a genuine chance, even if that means taking six steps backwards, for the welfare of the community. But, as recently demonstrated, Dinshaw Mehta has a known way of functioning, which he is unwilling to change. I don't see him changing his spots – at least not unless his family, particularly Viraf, steps up to the plate and firmly dissuades his father from continuing to constantly control the BPP from the outside.
Viraf needs to be able to stand up to his father and refuse sharing any more BPP-related information and e-mails with his dad, so he can become a respected Trustee in his own right, not one that stands under the umbrella of his father.
From the current WhatsApp messages floating around, Viraf seems to be in a bit of a tough spot due to the Musharraf video. If Dinshaw Mehta's Charge-sheet, should in any way, record Viraf's role that he played in that shameful episode, then Viraf could find himself in a spot of legal bother… something that is being actively discussed at great length on WhatsApp and other social media platforms.
I do believe if Viraf musters the confidence to step out from under his father's shadow and work as his own person, he will probably get way more votes than he would otherwise, should he contest the 2022 elections, considering that in the election campaign, he will need to distance himself from his father, as he did during his 2015 campaign, in keeping with the legal tangle which has strengthened its stranglehold over his dad, after he got Charge-sheeted.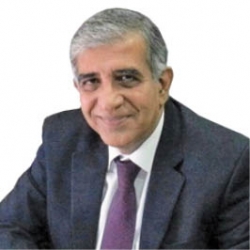 Latest posts by Kersi Jamshed Randeria
(see all)