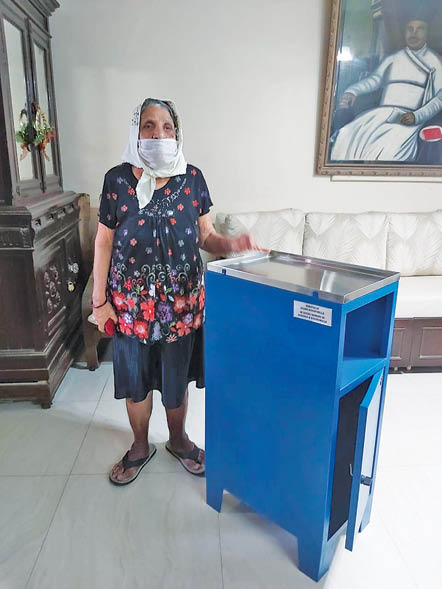 Santa Claus visited the Parukh Daharamshala in the form of Mrs. Soonu Hoshang Buhariwalla, on 26th December, 2020, as she gave a handsome donation of Rs 2,72,000/- for bedside cabinets for all the residents.
Anahita Desai, who is a member of the Ladies Committee at Parukh Dharamshala, as also our community's leading social worker, had made a request to her for a few cabinets. But with her generous heart, Mrs. Soonu said she wanted to provide bedside cabinets to all the residents – male and female. She donated the bedside cabinets in memory of her beloved husband, Hoshang Buhariwalla, her much loved son Burzin Buhariwalla and her mama, Maneck Nazir.
With Mrs. Buhariwalla wanting to personally greet the residents, the Ladies Committee members –  Anahita Desai and Shirin Katgara – welcomed her at the Parukh Dharamsahala. The metal cabinets, which were specially made to order for the occasion, brought a smile to the faces of all the residents, who were overjoyed to meet Mrs. Soonu and blessed her amply for her generosity.
Latest posts by PT Reporter
(see all)