Parsi Times is committed to whetting your weekend appetite in true Bawa-style… which would have to mean not just 'khavanu', but also 'pivanu'! For those of us who would like to chew on and guzzle up more adventurous gastronomical realms – we bring you 'Chomp & Cheers' with our very own Chef Prodigy – Bezad Dadachanji! Every week, Bezad will share his new, funky, multi-cuisine signature-recipes for us – not just to feast on, but also drink to!
PESTO STUFFED CHICKEN
Pesto is versatile and can be made with greens other than basil, or mixed with arugula, kale collards and parsley. Greens can be blanched to make the pesto greener, but for a stuffing, it's not necessary.
Ingredients:
Basil Pesto
Olive oil – 250 ml; Basil leaves – 1 cup; Garlic – 2 to 3 cloves; Parmesan cheese – 100 gms; Pine nuts/almonds without skin/walnuts – 125 gms; Lemon – 1; Pepper and Salt to taste.
Stuffed Chicken
Boneless Chicken Breast – 6; Oil; Tooth picks – 12 approx; Thyme – ½ tsp; White wine – 100 ml; Chicken Stock cube – 1; Cream – 40 ml; Salt and Ground black pepper to taste.
Method For Basil Pesto:
Toast the pine nuts/almonds/walnuts in a frying pan or in the oven for a few minutes or until lightly browned and let it cool.
In a food processor, mix together basil, olive oil and garlic, parmesan cheese and the nuts giving just a few more pulses to keep the texture of the pesto grainy rather than a smooth puree.
Taste for salt and pepper and then refrigerate until firm to stuff the chicken later.
Method for Chicken:

In a deep pan add about a litre of water and the chicken stock cube and bring to a boil. Once boiled simmer it down and let the water reduce.
Remove any remaining strips of silvery membrane and blood stains from the chicken and butterfly the chicken (run your knife horizontally in the centre of the breast to open the breast just like a butterfly).
Pat the sides of the meat to even the thickness all around.
Marinate the breast with salt, black pepper and chopped thyme.
Stuff each breast with a generous tablespoon of the chilled pesto in the centre.
Lightly roll the chicken, sealing it with toothpicks.
In a pan add oil and let it become hot. Once hot, add the rolled chicken breast and let it cook for 3 minutes on each side or until there is a golden colour.
Take out the chicken and add it to a baking tray and bake in the oven at 190 c for 7 to 8 minutes until the chicken is cooked through.
In the meantime, in the same pan, add white wine and scrape the bits leftover in the pan.
Add the chicken stock and let it reduce to a thicker consistency. Once reduced, add the cream and butter (optional), salt and pepper to taste and chopped parsley or dill to finish the sauce.
Take out the chicken from the oven and wait for at least 5 minutes before slicing it. Pour over the sauce and enjoy.
Tip:
You can substitute the basil for spinach or any other king kind of green. Serve with grilled vegetables or steamed broccoli instead. Enjoy!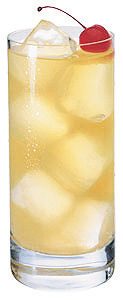 CHEERS WITH TOM COLLINS 
Ingredients:
Gin – 60 ml; Castor Sugar – 1tsp; Soda – 90 ml; Canned Cherry – 1; Lemon juice to taste.
Method:
In an ice filled glass, mix all the ingredients, except the cherry.
Shake well and strain in a chilled glass.
Put the cherry inside and enjoy.
Latest posts by Bezad Dadachanji
(see all)