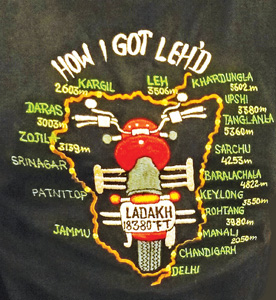 She was beautiful. We took her out for a ride. She sounded purrrfect! The 'THUMP' was just right on this one year old. This was going to be my ride for the next 10 days! I'm talking about the 350cc Royal Enfield Motorcycle, on which we rode 475 kms from Manali to Leh – what is arguably, one of the most fantastic road journeys in the world! Much has been written about it and much less done. For most of those who read about the high altitude paradise that Ladakh is known to be, it only remains a dream in print.
But know that this once-in-a-lifetime journey is not as inaccessible as it seems. As we climb the 50 kilometers from Manali to the 3,979 mts high Rohtang pass, we can already see the terrain change. We are greeted with fluffy white clouds and soft rain as the temperature steadily gets colder as we climb higher. And just as suddenly, the clouds give way to sunshine, warmth and a never ending vista of the Lahaul Valley, as we cross the Rohtang pass and start our descent to Keylong. And this was just the first of the 3 high mountain passes we needed to cross on our way to Leh.
After a night halt at Keylong, we continue our ride to our next camp at Sarchu, which is at 4,253 meters. No, Sarchu is not another mountain pass. The next high pass we cross on our way to Sarchu is the Baralacha La at 4,822 meters. At this altitude, you can feel the thin air as both our lungs and the motorcycle carburetor, strain to keep the necessary oxygen supply running through our respective veins. The rider and the bike become one!
Stay at Sarchu is eventful. Sleeping above 4,000 meters without acclimatization can be difficult. B
ut our tired bodies gave in and we woke up to hit the road again, excited to see what lay ahead. A hard day's ride and final run to Leh, 250 kms and the 5,360 meters Tanglang La pass, the highest point on this route, was waiting for us.
10 hours, one break, one flat tire, 2 cups of tea, and lots of time for peaceful-reflection-in-solitude later, we see in the distance, the unmistakable silhouette of the Leh Palace as we round a corner. Our little big adventure was coming to an end, or was it? The little town of Leh has been for centuries at the center of trade between the Kashmir Valley to the West and Tibet to the East. And around Leh on all directions is a treasure trove of natural phenomena and Cultural intrigue. But, more on that, for another time. For now, we must rest.

Latest posts by Narendra Agarwal
(see all)