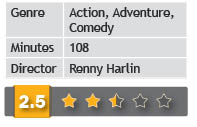 The ageless Jackie Chan pairs up with Johnny Knoxville in this cop-and-crook buddy action-adventure flick that, in terms of substance promises much, but due to its clichéd plot delivers little. Benny Chan (Chan) is a dedicated Hongkong detective bent on uncovering the identity of crime-boss Matador. Chan's detective partner Yung (Eric Tsang) is despatched to a watery grave apparently by Matador — but not before Yung tells Chan to look after his young daughter Samantha (Bingbing Fan).
Nine years later, Chan teams up with Connor Watts (Knoxville), an American conman-cum-gambler who's duped a Russian casino owner of a million dollars. On the run, he witnesses Samatha's kidnapping. The handcuffed Connor, a potential ally who can nail the Matador, gives Chan the slip time and again. This is the ruse for director Harlin to take the viewers down several exotic locales such as Macau, Siberia, Mongolia and the Gobi Desert, Hungary, not to mention the Chinese mud-slinging festival and a Russian folk dance.
The action and stunts are definitely watchable, but at a shade under two hours, the film is a bit too long. It's the kind of film where the action director and cinematographer have laboured more than the director. After the three 'Rush Hour' films, 'Shangai Noon' and 'Shangai Knights', the 62-year-old Chan bravely tries to carry on the odd-couple formula in 'Skiptrace', which is already breaking box-office records in China.
Not a bad choice for the Chan fan.

Latest posts by Hoshang K. Katrak
(see all)