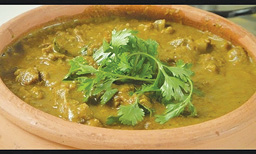 Chomp With Nilgiri Mutton Curry
A sizzling South Indian mutton preparation, cooked with green masala.
Ingredients:
500 grams Mutton cut into medium-sized pieces; 8 Green Cardamoms; 8 Cloves; 8 to 10 Black Peppercorns; 2 Bay Leaves; 1 Inch Cinnamon; Salt to taste; 1 cup scraped fresh Coconut; 4 to 5 Green Chillies Slit; 1/2 cup Coriander Leaves finely chopped; 1/2 cup Mint Leaves finely chopped; 1 inch Ginger minced; 1 tsp. Garlic minced; 2 tsp. Oil; A few Curry Leaves; ½ tsp. Turmeric Powder; 1 medium Onion finely chopped; 1 tsp. Cumin Powder; 1 tsp. Coriander Powder; 1 tsp. Fennel (saunf) Powder; 1 cup Yogurt
Method:
Boil 2 to 3 cups water in a deep non-stick pan, add mutton, half the cardamoms, cloves, peppercorns, bay leaves and ½ inch cinnamon. Mix well. Add salt and mix again. Cover and cook on low heat till the mutton is half done. Grind together coconut, green chillies, coriander leaves reserving some for garnishing, mint leaves ginger, garlic, remaining cardamoms, cloves, peppercorns, cinnamon with little water to a smooth paste. Strain the half cooked mutton in a bowl. Discard bay leaves and cinnamon and reserve the water. Heat oil in a non-stick pan, add curry leaves, turmeric powder and onion and sauté till brown. Add ground paste and sauté for a minute. Add half cooked mutton and mix well. Add salt, cumin powder, coriander powder, fennel powder and mix well. Add stock (The water in which the mutton was cooked) and mix well. Cover and cook on low for 5 to 8 minutes. Add yogurt and mix well. Cook for 5 minutes or until the mutton falls off the bone. Serve hot garnished with coriander leaves and serve hot.
---
Cheers With Spicy Pomegranate With Gin:
Spiced pomegranate mixed with gin is one of my favourite things. It's a marriage made in heaven.
Ingredients:
200 ml Pomegranate juice; 200 gms Castor sugar; 7 to 8 Whole peppercorns; 2 to 3 Cinnamon sticks; 2 to 3 Star anise; 1 Zest and juice of Orange; 2 pomegranates – Pomegranate seeds; 300 ml Gin (Bombay Saphire) – Any other is also fine.
Method:
Combine all the ingredients in a pan except the gin and pomegranate seeds and bring to a slow simme until the sugar has dissolved. Take off the heat and let it cool. Add the pomegranate seeds and the gin (If u want to add more gin please do) and let the flavours combine. Pour the mixture in a glass jar or mug and cover for a few hours in the refrigerator. Pour in individual glasses and enjoy.
Tip: The longer you leave the mixture in the jar, the better the taste will be . The more it matures, the better.
Latest posts by Bezad Dadachanji
(see all)