The Annual Prize Distribution Function of the Dadar Athornan Institute was held at the Institute's Mancherji Joshi Hall on the eve of 17th December, 2016. Vada Dasturji Khurshed K. Dastur, President of the Athornan Mandal, presided over the function while DPYA (Dadar Parsi Youth Association) High School Principal Diana Pereira was the Chief Guest. Other dignitaries present were Secretary Er. Cyrus Darbari, Trustee Er. Dr. Pervez Bajan, Treasurer Er. Vispi Dastur, Co-Secretary Kaizad Karkaria and the host, Principal of the Athornan Institute, Er. Dr. Ramiyar Karanjia.
The function commenced with a HumBandagi by students of the Madressa. Er.Dr. Ramiyar Karanjia honoured the memories of elite members of the Athornan Mandal, including Vada Dasturji Dr. Peshotan Mirza, who passed away in 2016. He also mentioned the demise of the Institute's beloved pet, Whitey. The students venerated Vada Dasturji and the Chief Guest Diana Pereira with special cheers for delivering 100% success at the Board Exams again.
Er. Cyrus Darbari's welcome address introduced Vada Dasturji Dastur comprised tracing his life from his training at the Dadar Athornan Institute, becoming an ordained Navar and Martab in that period, his schooling at DPYA High School, becoming a Boywalla Priest at Iranshah Aatash Behram, Udvada, and then Head Priest of the Samast Udvada Athornan Anjuman in 2002. Er. Darbari praised Dasturji's numerous accomplishements including delivering lectures on Zoroastrian religion and history to children and adults, in India and abroad; being the most sought after Head Priest at various religious occasions in India and abroad; actively attending meetings of various Trusts and Committee. He said, "Two major achievements in the past year were successfully holding of the Mega Iranshah Udvada Utsav in Udvada in December 2015, attended by over 3,000 community members. The second achievement was his felicitation by Sylvester Turner, Mayor of Houston in September, 2016, at a PTA ceremony conducted at the Zarthoshti Heritage and Cultural Centre. Vada Dasturji Saheb is probably the only Head Priest in recent times who has interacted with the CM of a State and the PM of our country to highlight the problems of our community."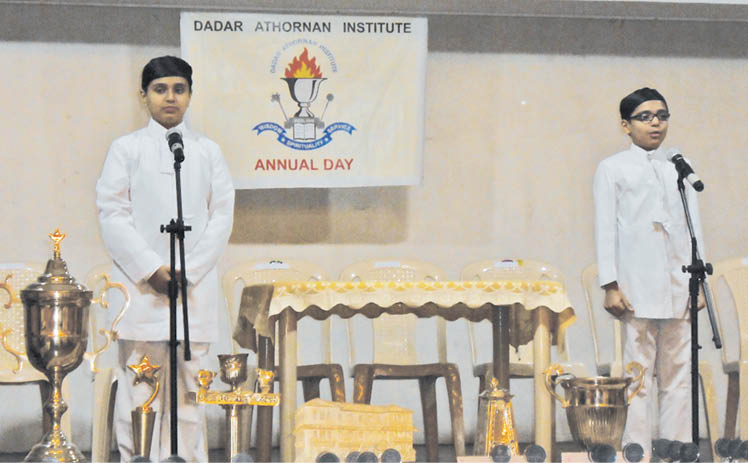 Er. Darbari then introduced the Chief Guest Diana Pereira, praising her as an accomplished academician, serving the Institution since 29 years! Vada Dasturji delivered the Presidential address, saying, "We, as mobeds and Rathaestars of the community, are lucky and privileged to have amongst us the Dadar Athornan Institute and the DPYA High School. These 20 young students in this Institution are fortunate to learn under the guidance of Er. Dr. Ramiyar Karanjia, who is amongst the best faculty members. You will become priests and when you guide the community, you will have to guide it with your own conscience. Think of what you have to say and if you are correct, be brave and go ahead with it, even in the face of opposition. Truth is the basis of our Zoroastrian religion. Don't be afraid to speak the truth and don't be afraid of accepting your mistakes."
Er. Dr. Ramiyar Karanjia thanked Vadaa Dasturji for his guidance and said he was happy for two reasons – one that there was a large number of parents present, most of whom were ex-students; and second, to see the DPYA teachers, who provide a motherly touch for the children. "We had a nice year with five new admissions, which brought the strength of our Madressa students to 20 and two students were ordained priests this year. The Bhantar Exams were conducted by Er. Darius Pervez Bajan, son of Ervad Dr. Pervez Bajan. Our Institute is globally renowned and Zoroastrian students from the Roots program, who have never known what a Madressa is, come here and we give them an idea about what a religious institution is. Activities this year have been motivational and linguistic classes by Professor Navaz Dubash. A donor gifted us with personal computers, linen and games. We now have a recreation room for our junior students from the first to fourth standard. Some student activities were a picnic to Della Adventures, various excursions, a Scout Camp from DPYA School and an annual ritual trip to Tarapore for Jashan, accompanied by Er. Darbari. The children enjoyed a food fiesta, Winter Mela, Anand Mela, Hindi movies, Gujarati and English plays, dinners and fun outings. Our students have outshone others in Sports at University Stadium, Scout Sports and academic competitions like Spellathon and Inter-House competitions and musical competitions. Their daily routine is strenuous and they are shining achievers."
Er. Karanjia thanked the staff, supporters and ex-alumni of the Institution, and especially the DPYA Management for providing free education to the Madressa students for several years. Coincidentally, 2016 marked the Golden Jubilee year of the Dadar Athornan Institute and DPYA's association.
Ex-Student and current Prayer teacher for 12 years, Er. Kersi Karanjia was felicitated. Prizes and trophies were awarded to excelling students by Diana Pereira and Xavier Pereira. Senior Trustee and Treasurer Vispi Dastoor delivered the vote of thanks. A witty skit, 'Technology With Spirituality', was prepared and presented by the students, in addition to Monajats and a dance to 'Parsi Hame Chhaiye'.  The formal function ended with renditions of 'Chhaiye Hame Zarthoshti' and the National anthem, followed by refreshments.
Latest posts by Jamshed Arjani
(see all)