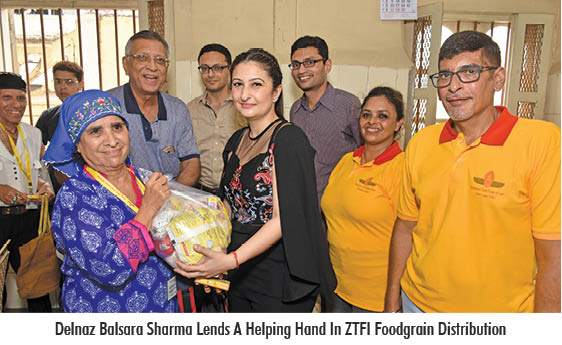 The Zoroastrian Trust Funds of India (ZTFI), one of the community's leading philanthropic institutions which helps sustain the lives and livelihood of the community's underprivileged, held its popular monthly 'Feed-A-Family' program on May 18, 2019, at Cama Baug (Small Otla). The occasion was graced by Chief Guests – Delnaz Balsara Sharma, the current Mrs Asia Universe; and Behnaz Todywala, founder of Surat's famous Utkarsh Academy.
ZTFI's vibrant Trustee and visionary, Yasmin Mistry formally welcomed all and introduced yet another ZTFI initiative – 'Make My Day' – much to the excitement of the benefactors. As per this scheme, beneficiaries would be given forms with choices which would 'Make Their Day' special, and ZTFI would realise their chosen option to bring happiness to the benefactors and their loved ones. 'Make My Day' offers choices including a 'Restaurant Dinner with your Special Someone'; 'Day-trip of Mumbai's four Atash Behrams'; 'Shopping at the Mall'; 'Couples' movie tickets'; 'Picnic for two (including meals and transportation)'; and 'Salon treatment for men and women'.
Next was the last 'Make My Wish' prize distribution where the last three prizes were picked up. This was followed by the usual birthday celebration and cutting cake, commemorating the birthdays of all beneficiaries born in the month. On a very thoughtful note, ZTFI distributed free umbrellas to all, in keeping with the oncoming monsoons, but also made it fun by throwing in a fun 'Umbrella Photoshoot', which was thoroughly enjoyed. Yummy refreshments from Merwan, sponsored by Delnaz Balsara Sharma were given to all, were given to all, before concluding the program with food-grain distributions. Distributing necessary provisions to over 400 under-privileged Parsi/Irani individuals, ZTFI caters to their daily requirements of a monthly ration including food supplies like rice, pulses, sugar, tea, as well as items for daily use like washing powder, and also cash.
Speaking on the occasion, Chief Guest Delnaz Balsara Sharma said, "Yasmin's ZTFI team is wonderful and brilliantly manages the entire program. All individuals present were treated with utmost respect and care and the feeling of oneness was outstanding. I feel Rs. 6,000/- a year is very reasonable to help a family and it brings so much happiness and smiles on their faces."
"The ZTFI Feed-A-Family is a great program. Conducting this kind of philanthropy every month for the last 10 years is really fantastic and highly commendable! Hats off to the entire team and the foundation," added Chief Guest Behnaz Todywala.
Latest posts by PT Reporter
(see all)