Delzad K Avari is a Le Cordon Bleu, London Alumni. His love for cooking was evident from a very young age. Having completed the Grand Diploma in cuisine and patisserie from the London campus, post his Hotel Management degree from Mumbai's Sophia Polytechnic. His expertise has been honed with rich and varied experiences including his stints with the Taj Mahal Palace and Towers (Mumbai); a Food Producer with Masterchef India – Season 2, followed by Dubai and the Maldives; and more recently, as a Sous Chef in Trinidad and Tobago in the Caribbean!

Back home in Mumbai, he currently runs his own home chef set-up, greatly gaining in popularity, named, 'Del'z Kitchen'- an absolute go-to for all meat-lovers! Delzad also shares his expertise in Restaurant Menu Development and Consulting for his recent project – 'Tiger Lily', an upscale restaurant in Hyderabad. He has recently begun his own YouTube channel, titled 'Chef Delz', which is tasting great success! [Chef Delzad's Insta – Personal: @chef_delz  &  Work: @delzkitchen]. We welcome suggestions, queries and requests for recipes from our readers at editor@parsi-times.com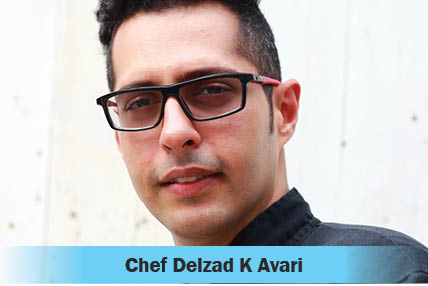 This week, Chef Delzad shares delicious and flavorful, comfort food recipes for the monsoon season – Chicken Pasta Pie and Thai-inspired Stir Fried Shrimp Noodles with Chilli Oil.
CHICKEN AND PASTA PIE
Ingredients:
Boiled pasta (shape of choice) – 200g; Chicken breast (cut in small dices) – 200g; Chopped onions – 2 medium; Chopped garlic – 5-6 cloves; Chopped parsley/coriander – ¼ bunch; Chilli flakes – 1 tsp; Dry Mixed herbs – 1 tsp; Butter – 30 g; Flour – 30 g; Milk – 100 g; Mozzarella cheese – 200 g
Method:
Heat olive oil in a pan. Add the diced chicken seasoned with salt and pepper and cook till cooked through.

Heat butter in a pan. Add the onions and garlic and saute for 2 mins

Add the flour and cook together till you get a sandy texture

Cook for a few minutes then add the milk and stir vigorously to avoid any lumps and cook till you get a thick white sauce of dropping consistency

Season with salt, pepper, chilli flakes, herbs and chopped coriander/parsley

Add the chicken and pasta to the thick white sauce, add half the mozzarella cheese and mix well

Transfer to a baking dish and top with the remaining mozzarella cheese

Bake @180 C for 20 – 25 mins or till the cheese gratinates and turns golden brown.
---
THAI INSPIRED STIR FRIED SHRIMP NOODLES WITH CHILLI OIL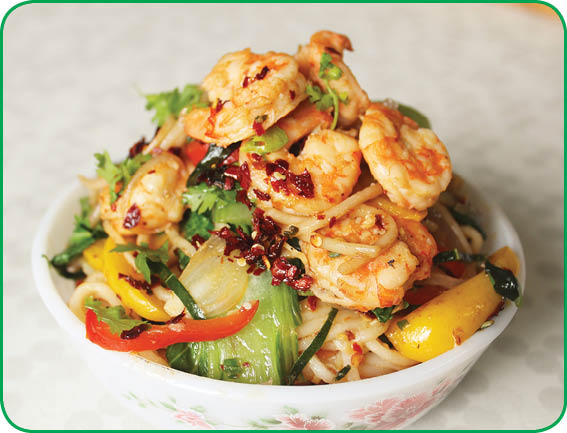 Ingredients:
Boiled Noodles – 200g; Sliced garlic – 5 – 6 cloves; Lemongrass sliced – 2 sticks; Chopped Thai kaffir lime leaves – 3 pcs; Galangal ( thai ginger) sliced – 1 inch piece; Sliced onions – 1 large; Julienne coloured bell peppers – 1 large; Pak choi/cabbage (Cut in chunks) – 150 g; Fresh coriander – ¼ bundle; Fresh basil – 10 leaves; Prawns cleaned and deveined – 200 g; Chilli oil – 4 tbsp (depending on tolerance); Salt and pepper – to season; Soya sauce – 1tbsp; Vegetable oil – 2 tbsp
Method:
Heat oil in a pan. Add the galangal, lemon grass, lime leaves, galangal and saute for 2 mins.

Increase the heat and add the onions, bell peppers, pak choi, the prawns and cook for 3 – 4 mins

Add noodles, coriander leaves, basil leaves

Add chilli oil, salt, pepper and soya sauce and toss together on high heat till everything is combined

Serve piping hot!
---
Latest posts by PT Reporter
(see all)