Delzad K Avari is a Le Cordon Bleu, London Alumni. His love for cooking was evident from a very young age. Having completed the Grand Diploma in cuisine and patisserie from the London campus, post his Hotel Management degree from Mumbai's Sophia Polytechnic. His expertise has been honed with rich and varied experiences including his stints with the Taj Mahal Palace and Towers (Mumbai); a Food Producer with Masterchef India – Season 2, followed by Dubai and the Maldives; and more recently, as a Sous Chef in Trinidad and Tobago in the Caribbean!

Back home in Mumbai, he currently runs his own home chef set-up, greatly gaining in popularity, named, 'Del'z Kitchen'- an absolute go-to for all meat-lovers! Delzad also shares his expertise in Restaurant Menu Development and Consulting for his recent project – 'Tiger Lily', an upscale restaurant in Hyderabad. He has recently begun his own YouTube channel, titled 'Chef Delz', which is tasting great success! [Chef Delzad's Insta – Personal: @chef_delz  &  Work: @delzkitchen]. We welcome suggestions, queries and requests for recipes from our readers at editor@parsi-times.com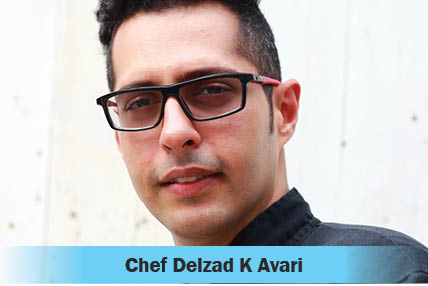 This week, Chef Delzad helps you plan a tasty weekend with yummy recipes – 'Fried Rice with a Twist' and 'Spicy Zesty Potatoes'.
.
.
.
.
.
---
Fried Rice With A Twist
Ingredients:
Sliced onions – 2 medium; Chicken breast cut in small dices – 150 g; Chopped spring onions – 2; Chopped carrots – 1 small; Chopped French beans – 10 beans; Chopped garlic – 5 cloves; Chopped ginger – 1 inch piece; Chopped coriander – 1/8th bunch; Chilli garlic paste – 2 tbsp; Soya sauce – 1 tbsp
For the Rice:
Rice – 100 g; Whole spices – Cardamom, Bay leaf, Star anise, Pepper corns
Method: 
Boil rice with the whole spices and keep aside.

Heat oil in a pan or wok, add the sliced onions and allow to turn golden brown.

Add ginger, garlic, chicken, carrots, French-beans to the pan and saute till the chicken is semi cooked.

Add chilli-garlic paste and soya sauce and cook for a few more minutes.

Add the rice and toss it well. 

Season with salt and pepper, add the chopped coriander and spring onions and mix it in.
---
Spicy Zesty Potatoes
Ingredients:
Potatoes (peeled and cut into wedges) – 500g; Chopped onions – 1 medium; Chopped spring onion greens – 2; Oil – for deep frying
For the Spice Mix:
Jeera powder – 1 tbsp; Chilli powder – 1 tbsp; Dhana jeera powder – 1tbsp; Soya sauce – 1 tbsp; Grated lime zest – 1 lime; Ginger garlic paste – 1 tbsp; Vegetable oil – 3 tbsp
Method:
Par boil the potato wedges till just about falling apart and allow them to cool.

Mix all the ingredients of the spice mix, add a little water if required to make into a smooth paste.

Heat 1 tbsp of vegetable oil in a pan and saute the onions.

Add the spice mix and cook for about 10 mins. Add a little water if it begins to dry out in order to maintain a coating consistency.

Deep fry the potato wedges. 

Toss them in the sauce and serve hot, garnished with the chopped spring onions.
---
Latest posts by PT Reporter
(see all)