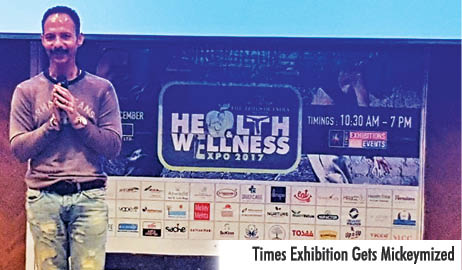 India's No. 1 Holistic Health Guru, Dr. Mickey Mehta has been the talk of the town for his innumerable initiatives and drives that motivate and empower the concept of fitness- both physically and spiritually. Having had an eventful 2017 thus far, in keeping with an inexorable line of successes, Dr. Mickey was recently invited to Mau, Indore, by the Indian Army to train the Olympic shooters. His brilliant initiative, 'Morning Fitness Party', in association with the Times gained tremedous momentum – this was further fuelled by Dr. Mickey's show on ET Now called 'Healthy Wealthy And Wise', launched in mid-November.
Having recognised his infinite potential, Dr. Mickey was recently invited by the Times group on two varied occasions – The Times Of India Exhibition, where he elucidated one of today's most relevant topic, 'Heal Thy Self', as well as introduced the concept of 'Ichha Mrityu' at the Times LitFest on 15th December, 2017.
Working towards ending the year with a bang,  Dr. Mickey was seen motivating the participants of FICCI – Flow Marathon and Junior Marathon on 10th December. He also educated the students of Wellingkar Business School on 'Purusha and Prakruty'- an integrated topic that highlights the constant and very dynamic nature of business ethics, practices and how to involve karma in management on the 22nd of December, followed by his talk at the Jain International Trade Organisation to be held in Belgam on 26th and 27th December, addressing over five hundred people on the sciences of longevity and how to remain disease free, while promoting his book, 'The Shoonyam Quotient' which is now moving towards becoming the best seller in its category!!
As if this wasn't more than enough, adding to the many feathers to his hat, Dr. Mickey will kick start 2018, by attending the 'Second Heath Tourism Conclave' organised by the Indian Merchant Chambers on 12th January, 2017, where he will speak on demystifying superstitions by creating a scientific understanding – an event which will be chaired by Farhad Jamal, Senior Vice President, Taj Hotels.
Parsi Times catches up with Dr. Mickey Mehta…
PT: What is 'Ichha Mrityu'?  How was it conceptualized and how different is it from 'death wish' or 'euthanasia'? 
Dr. Mickey: Euthanasia is death desired over life. Death wish is asking for trouble and death, but Ichha Mrityu means being able to live fulfilled life, having realised the purpose of it and doing everything it takes to accomplish its purpose. This drive of energy certainly prevails upon life, thereby carving out your own destiny. Normally death comes by decay and diseases, but Iccha Mrityu is all about purifying, cleansing and regulating health and fortifying your being, thus ensuring longevity for the desired length of life. And of course, this comes by disciplining yourself, having a single minded focus on a larger interest above self, and having an insatiable appetite to add value and contribute.
PT: Congratulations on consecutively launching new initiatives! With this in mind, could you highlight the relevance and perks of the 'Go Green Yo Workout' launch on Tata Sky?
Dr. Mickey: 'Be lean, but don't be mean. Plug out from the machine, plug into your heart and Go Green,' was the concept which I launched with the central principle being to conserve and preserve! Remember, always work out to sub-maximal capacity. Workout like a human and not like an animal. The workout intensity has to be kept just good enough for our body to be able to recover from it in twenty-four hours. It is extremely important to neither build up toxins (by-products of workout) nor breathe out heavy toxic gases due to high intensity workout.  And most importantly, try and workout as much in the mornings only.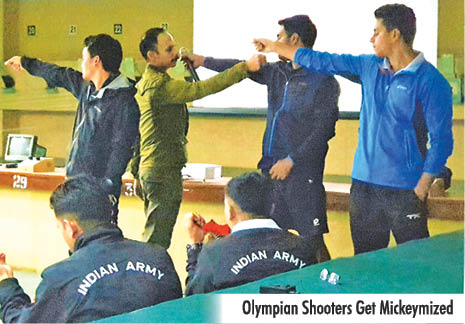 PT: Your Times Wellness Exhibition highlighted the need to heal thyself from within. Could you kindly elaborate on how one can do so and seek the necessary benefits?
Dr. Mickey: Medical science is a boon in more than many ways but that does not necessarily mean, we have to fall sick. Being in a constant state of self-healing, self-maintaining and self-preserving is our primary responsibility and also is part of our primal intelligence. Self service has to be held in the highest regard and since health is about healing, the process of healing has to be sacred and sacrosanct. The best nutritional supplements should be absorbed from the environment and cosmos. Absorbing a lot of morning sunshine can trigger a lot of healing processes. Reverence and meditation and prayers with water also supports a lot of self-healing. Full moon meditation under the open sky can also establish lost circadian rhythm. Positive affirmations on wellness, supported by a disciplined life with food, workouts and rest, also act like medicine and are corrective in nature. Try and eat as much natural, wholesome, unprocessed and vegetarian food. And most importantly, you might be shocked to know that sharing, caring, empathy, compassion, philanthropy, creativity, productivity and integrity can also heal you. The new frontiers of medical science research lay a lot of emphasis on joy quotient which leads to wellness, thereby expanding your awareness and consciousness.
PT: With 'Light of Life' being your brainchild movement, how are you working to see it reach and enrich a larger demographic audience?  
Dr. Mickey: 'Light Of Life' is a Corporate workshop series in which there are sessions on age reversal, invincible immunity, personality transforming programs for super success. Currently, I am working with various marketing teams / consultants, to help take this to the world. I constantly innovate and reinvent myself to improve my output and make them result oriented with utmost efficacy.
PT: What are your future undertakings to make 'Wellness – Your Religion No.1'?
Dr. Mickey: I live by my own learnings and philosophy and leading by example is the best way forward. When people are established in wellness and wellbeing they get integrated and synchronised with the universal rhythm. After this, the purity of devotion to the divine and sincerity to one's own soul increases by leaps and bounds, thus making a person more religious in true sense with his/her religion of birth. One can simply transcend this and embrace the religion of good thoughts, good words, good deeds, which means, anyone in their earnestness can follow Zoroastrianism.
With this, Dr. Mickey urged all to tune in to Tata Sky in the coming year and catch him live as he demonstrates his 'Go Green Yo Workout', which is sure to bring in a new lease of positivity and sustainability in the lives of his audiences.
Latest posts by PT Reporter
(see all)