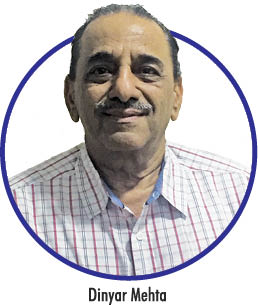 The Parsi Community has a number of travel and tour operators who provide religious tours as well as vacation travel-packages for visiting our holy places. However, the one name that stands out from the rest is 'Dini Travels', founded by 67-year-old Diniar Mehta, who has, for over the past four decades, grown to become the first choice of such tours in the Community! 'Dini Travel' tops the list as the Community's favourite choice, when it comes to the three most important aspects which determine the highest levels of success and customer satisfaction in the travel and tours sector – namely, Religious Destinations Offered (on a local, national and global level); Extremely Affordable and Economical Budgeting; and providing Unconditional Customer Convenience to ensure all passengers the experience of a lifetime!
Dini Travels conducts two main religious tours – the one-day local tour in Mumbai known as the '7 Agiaries and 4 Atash Behram Sahebs' tour, which is conducted during the holy days of Muktad; and the fifteen-days international 'Iran Tour'.
Says Diniar Mehta, "Since childhood, my parents used to take me to visit the seven holy Agiaries and four Atash Behrams during Muktad, considering it to be very pious. The idea of conducting this religious tour for the Community came to my mind when I was barely 20 years old and it met with great encouragement from my (late) father Darabshah. With motivation and blessings, I started this one-day tour in 1971 and have been unfailingly conducting it for 48 years now! Over the past few years, at the request of the devotees, I have added a visit to our miraculous 'Bhikha Behram-no-Kuo' to round off a great day of visiting our holy places."
The '7 Agiaries and 4 Atash Behram Sahebs' tour, which usually has over 30 registered devotees, starts at Colaba's Cusrow Baug at 5:30 am and ends by 7:30-8:00 pm and is inclusive of breakfast, lunch, and evening tea with snacks. The itinerary commences, in chronological order, with the Wadiaji and Anjuman Atash Behrams; then Eedawala Agiary; followed by Dadyseth and Banaji Atash Behrams respectively. The next stop is Bhikha Behram Well, followed by Banaji Limji Agiary (Mumbai's oldest, 310-year-old Agiary); Dadyseth Agiary; Batliwala Agiary; Soonawala Agiary; Tata Agiary and Patel Agiary (Andheri) where lunch is served before finally visiting Vashi's Doongaji Agiary. After this, everyone is dropped home. "I am delighted to share, that having read about my '7 Agiaries and 4 Atash Behram Sahebs' tour in Pasi Times, I had people joining me, not just form Mumbai but also from Pune, Hyderabad, Gujarat and other places!" says Diniar Mehta.
"I have had the pleasure of visiting the 7 Agiaries and 4 Atash Behram Sahebs every year with Diniar Darab Mehta of Dini Travels, right from the day Diniar started, till date! God Bless him!" says Gool Bharda, from Udvada.
IRAN TOURS:
Dini Travels conducts its extremely popular 'Iran Tours' thrice a year – in the months of May, September and October-November. In keeping with providing exemplary customer service, the agency assists with all requisite needs including passport, visa, travel, accommodation, food, tourism and local travel. The 15-day itinerary comprises visits to Tehran, Shiraz, Persepolis, Yazd, Pir-e-Sabz, Flying Fires, Isfahan, Caspian Sea, Hamadan, Ali Sadr Caves and Ferdowsi Tusi Tomb; inclusive of internal flights, local travel in luxurious comfort via VIP buses and air-conditioned trains; rides in the ghoda-gaadi; a Jasan at Damavand done by Irani priests – sharing special rivayats; authentic Irani food; and an optional 3 nights and 2 days stay in Kish Island (Dubai).
"It was a long cherished desire of mine to visit Iran during my lifetime. I knew there were many tour operators but was not
sure which o
ne to approach. Finally, with my nephew, I spoke to Diniar Mehta and was impressed by his explanation and itinerary of the tour. We left for Iran on 09 May 2016 by Emirates Airlines. The whole tour was extremely well organised. Our overnight stay was mostly in 3 or 4 star hotels. We visited all important fire temples including the shrines of Behram Yazd and Pir-e-Sabz. A jashan ceremony at the foot of Mount Damavand was very impressive. This was more than a purely religious tour, for we also had a lot of entertainment with rides in open cable cars, trams and horse drawn carriages. I would unhesitatingly recommend Diniar Mehta's tour to anyone who plans to visit Iran," vouches Soli Pochkhanawala from Bangalore.
Since Iran holds such a cherished place in all our hearts, especially the seniors, Dini Travels is also known to provide excellent facilities for them. Says Viraf Ghyara from Behram Baug in Jogeshwari,
"We were initially apprehensive as my wife Villie uses a wheelchair for her outside travel. But Diniar and his team were most courteous and extra supportive – in fact, they ensured my wife reaching the top of Pir-e-Sabz, our Holy shrine! All and only due to the efforts of Diniar and his team. Dini Travels is a boon to senior citizens and differently-abled people!"
"Dinyar's never-say-no to any request attitude and personal attention and friendliness made the trip most memorable!" adds Jangoo Dalal
"A very comfortable and meticulously planned VIP tour, with superb hotels, excellent food with beer and ice cream everyday – that's the reason that even at the age of 85, I have been to Iran with Diniar six times and have booked again for the seventh time this October!" says Macca Jimmy Tavaria.
Latest posts by PT Reporter
(see all)