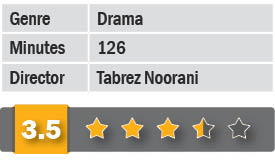 One of the first films to showcase (pun unintended) the plight of brothels and their inmates was 'Mandi' (1983). The dusky Mrunal Thakur, making her debut in Hindi films in the eponymous 'Love Sonia', has shades of the late Smita Patil, who essayed  Zeenat in Shyam Benegal's 1983 classic. Noorani's directorial feature debut goes several shades further.
Adil Hussain plays the impoverished farmer Shiva, who, unable to settle his debts with the local moneylender Thakur Baldev Singh (Anupam Kher), is coerced into selling his elder daughter Preeti (debutante Riya Sisodia) to him. The younger Sonia too is conned by Singh into going to Mumbai to look for her sister, only to be sold off into the flesh trade.
Thus begins Noorani's (line producer of Slumdog Millionaire, Life of Pi) film, written by him and 'inspired by true events despite the characters and situations being fictional'. Manoj Bajpayee plays Faizal, the lascivious brothel owner ('I'm a businessman', he says nonchalantly when his premises are raided). Jogi Mallang's casting is spot-on, including Madhuri (Richa Chadha) and Freida Pinto as Rashmi, the senior inmates who have their own backstories to narrate. Pinto, who has a foot-and-a-half in Hollywood, seems to slip in effortlessly in Hindi films.
If there's a weak link in the film it's in the second half, where the flesh trade travels to Hong Kong and across the Pacific to Los Angeles where Demi Moore makes a cameo as the counsellor of an NGO (given the degree of American collaboration in the film, it was inevitable). The talented Rajkumar Rao too appears as the decoy customer who rescues underaged girls from being battered – physically and mentally. Ritesh Shah's Hindi dialogues (Pink, Kahaani) are unfettered while Lucas Bielan's cinematography and set-design by Raelyn Tepper captures evocatively the cubicles and recesses the women are confined to. The background score by Niels Bye Nielsen is adequate, with A R Rehman topping it off with 'I am more' (sung by Bishop Briggs) during the end credits.
With profanities galore (some of them understandably muted), 'Love Sonia' tackles a bold subject strikingly, playing out impudently across many fronts: the dilemma of debt-stricken farmers, the predicament of sex-workers and human trafficking worldwide, while exploring – and exposing – the harsh realities of the dark underbelly of the sex-slave trade.

Latest posts by Hoshang K. Katrak
(see all)