Parsi Times pays a special tribute to the luminary of our times.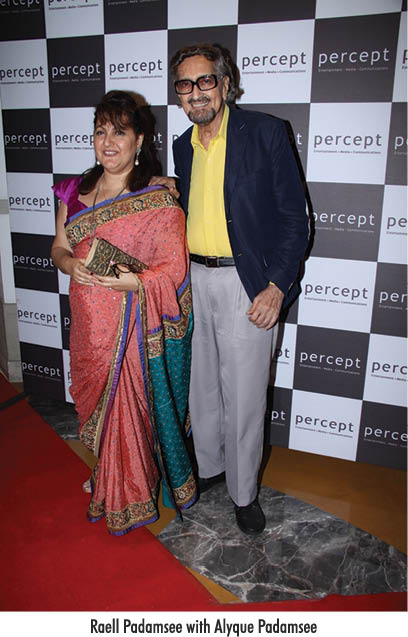 He was a towering legend, quite literally. The ad and theatre guru, who had mentored, amongst others, Kabir Bedi, Shiamak Davar and Karla Singh, and sired three children – Raell, Quasar and Shazahn from stage luminaries Pearl, Dolly Thakore and Sharon Prabhakar, respectively, passed away in the early hours of 17th November, 2018, after ailing for a while, at the age of 90.
The stalwart's pioneering achievements in the world of stage and advertising are legendary. His philosophy – 'Don't tell it like it is, tell it like it isn't', led him to create brilliant ad campaigns, particularly the ones for Cherry Blossom (Charlie), Surf (Lalitaji) and of course the famous Liril (the girl in the waterfall) – the petite and svelte Karen Lunel, a colleague of mine in Air-India, who described Alyque as a taskmaster, but genial.
In his on-stage career spanning 65 years, he directed over 70 plays, adapting classics by Ernest Hemingway, Arthur Miller and his favourite – William Shakespeare. The Padma Shri awardee got to play Jinnah on the big screen in the epic production of 'Gandhi' (1982) only because the director Richard Attenborough had found him 'autocratic'.
A couple of days ago, on 29th November, his dynamic daughter, Raell had lovingly put together a retrospective of Alyque at the NCPA, orchestrated by his protegee Karla Singh, commemorating his life in theatre, advertising and public service. To the strains of 'I did it my way', tributes from, among others, the President and the Prime Minister were displayed on the screen. NCPA Chairman, Khushroo Suntook narrated an amusing incident of their meeting on his first day in office at NCPA. Clips and screenshots of his recitals and interactions with the cast during rehearsals of his plays were shown.

His youngest daughter, Shazahn, shared how he was as much a friend as a father. Son Quasar read out a letter from the US-based, foster-son Ranjit, before describing his dad as being 'loved by the very people who disliked him'. Alyque's friend of 75 years, Farokh Mehta, reminisced on wistful evenings they'd spent together, recounting humorous incidents with Alyque in their theatre days. Gerson da Cunha, Alyque's senior colleague and longtime friend, described their eventful years at Lintas.
While Sharon and Dalip Tahil sang from the 1979 'Evita', Delna Mody belted out a swaying number from 'Kabaret'. Shiamak Davar and Marianne D'cruz Aiman paid sentimental tributes. Funnymen Cyrus Broacha and Kunal Vijaykar, who had both cut their teeth with Alyque, brought the house down with their wisecracks, the former with his inimitable impersonation of their mentor, replete with BCs and MCs. Kabir Bedi summed it up succinctly by saying that God has now competition up there, and 'Alyque must be raising hell in heaven'.
My first glimpses of Alyque Padamsee were while visiting Hindustan Unilever (my wife worked there). My diffident 'Hello' would be met with a crisp and courteous Hello or a polite nod of the head. The last time I met him was in February this year during his daughter Raell's stage production of 'The Sound of Music', in which I had the good fortune of playing a part. Raell has inherited the same sterling qualities. In one sweeping glance she would take in oversights and lapses in dialogue and costumes and would point them out in an affable manner. A couple of years ago, I managed to lay my hands on an inscribed copy of Alyque's autobiography, 'A Double Life', which is now even more of a treasured possession. His life was anything but double, you see, Alyque Padamsee, the consummate genius, led multiple lives. RIP Alyque. You will indeed be missed!

Latest posts by Hoshang K. Katrak
(see all)