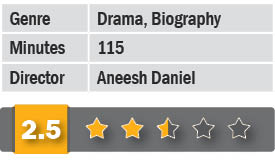 The brutal killing of Australian Graham Staines, along with his two young sons Philip (10) and Timothy (6) in Odisha, allegedly at the behest of a political party and because of forced conversions and those done through inducements, had rocked the nation — and caused a backlash worldwide — back in 1999.
Two decades later, first-time feature director Aneesh Daniel (who's co-written the film and also plays a cameo as the estate agent) has recreated the murders – – – but with the entire story seen through the eyes — and ears — of rookie journalist Manav Banerjee (Sharman Joshi).
Banerjee badly needs a job to support his pregnant wife and for that he's prepared to travel to Manoharpur in Orissa (now Odisha). His editor is willing to give him a permanent position provided – – – he gets documented evidence of 'forced conversions'.
Religious conversations are always a sensitive subject and though based on a true story, one gets the feeling that the filmmakers have shied away from putting forth their views – – – given the religious and political background of the film.
'Whoever did this, we will forgive them', says Graham Staines' (Stephen Baldwin) widow (Shari Rigby) in one of the few emotional moments of the film. But overall, it's insipid in parts and suffers from a script which fails to hold the viewers' attention throughout. The young journalist's wife Shanti's (Aditi Chengappa) health is delicately placed after giving birth due to heavy bleeding but Manav is shown running around the countryside — declaring himself a journalist — in search of evidence against Staines.
The character of Manav's editor Kedar Mishra (Prakash Balawadi) provides the few compelling scenes in the film.

Latest posts by Hoshang K. Katrak
(see all)