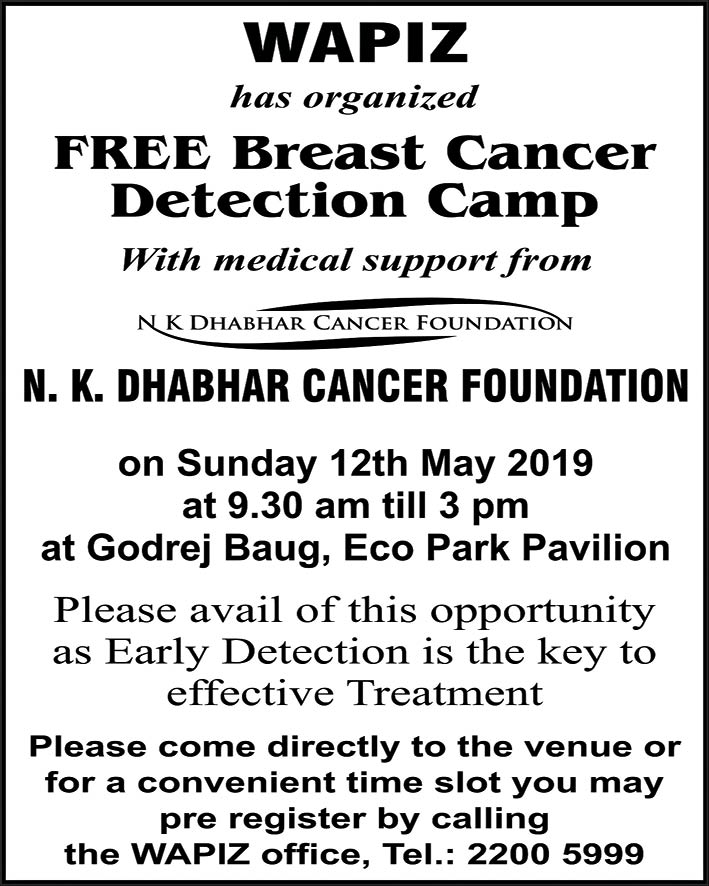 WAPIZ has tied up with the Dr. N K Dhabhar Trust to hold FREE Breast Cancer Camps for the first time in all Parsi colonies and Baugs, starting out with the first camp to be held in Godrej Baug on Sunday 12th May, 2019.  These camps will have a team of doctors and technicians who will professionally conduct all the screenings for breast cancer. Cancer has become a wide spread phenomenon and one needs to deal with it pre-emptively in a preventive way, instead of waiting till it's too late and reacting to it in a corrective way. This is a golden opportunity for all the women of our community to come forward and participate in the screening by this camp, which takes all of 10 minutes! You can also book your preferred time-slots by calling on the WAPIZ office number.
The following is a list of a few Frequently Asked Questions which have been answered by Dr. Boman Dhabhar himself, on the importance of screening for Breast Cancer:
Q: What is Cancer Screening?
Dr. Boman:  Cancer screening is looking out for the presence of potential cancer, before a person has any symptoms.
Q: What is the importance of Screening?
Dr. Boman: If a Cancer is detected before the symptoms start appearing, it's easier to treat. The earlier the detection, better are the treatment options. Screening tests usually don't diagnose cancer. If a screening test result is abnormal, more tests may be done to check for cancer. For example, a lump detected could be cancer or something else. More tests or 'diagnostics' are done to confirm cancer, including a biopsy, where cells or tissues are removed for a confirmed pathological inspection.
 Q: Is there an age-group for Screening?
Dr. Boman: For breast cancer screening, the recommended age is 45 and above. But since even younger women are contracting it now, we recommend screening by the I-Breast machine for them too. The procedure is safe and non invasive. Mammography is not recommended for younger (child bearing potential) women since it exposes them to radiation. Sonography of the breast is an option.
Q: Can pregnant women do screening?
Dr. Boman: Yes, but only with the I Breast Exam or Sonongraphy.  Mammography should be totally avoided during pregnancy
 Q: Can Screening be done during the periods?
Dr. Boman: Yes, but you may get a false positive as sometimes, during the Menstrual Cycle the breast tends to be lumpy.
Q: Is Screening painful?
Dr. Boman: Not at all! The I Breast machine is a small, hand-held device. Technicians run the probe over the breast with minimal pressure.
Q: How does it work?
Dr. Boman: This machine works on the principal of density, hence any hard mass in the breast gets detected – like a fibroid, cyst or tumour. If tested positive, further investigation is done by a Sono-Mamogram. The advantage of this screening is that it is non invasive, without radiation and painless.
Q: What's the time taken for a Screening?
Dr. Boman: 10 to 15 minutes per participant
Q: Why is Screening preferred over Mammography?
Dr. Boman: For a number of reasons – a) Large numbers of women cannot be screened with mammogram in one day; b) It's cheaper; c) It prevents unnecessary exposure to radiation; and d) It's painless!
Latest posts by PT Reporter
(see all)